WND's Zumwalt Uses Another Fake-News Website As A Source
Topic: WorldNetDaily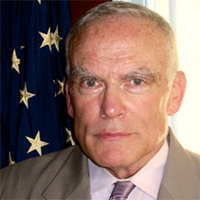 James Zumwalt spent his Sept. 1 WorldNetDaily column ranting about Rep. Ilhan Omar and bizarrely tried to liken her to the Conditions of Omar, which he clamed "set out conditions by which non-Muslims subordinated themselves to Islam." At one point Zumwalt wrote: Recent evidence indicates she may well be facing 40 years in prison and deportation for seven new crimes uncovered. These include very credible evidence she and her family changed their name to illegally enter the U.S. in 1995, and at least eight instances of perjury going back to 2009."
Zumwalt's evidence for this is an article at a website called Voice Liberty, which begins with a rant that "Obviously, Ilhan Omar has no regard for US law and yet here she is representing Minnesota in the US Congress and a sitting member on the House Foreign Affairs Committee."
Voice Liberty is a sketchy operation at best -- its website design is rudimentary, much of the content looks to be pro-Trump, anti-Hillary aand anti-Muslim, its "about us" page is blandly written and all the articles appear to be written by someone using the byline of "Paul Gabriel." All of these things are hallmarks of a sock-puppet fake news operation which no sentient human ought to trust.
Then again, we've caught Zumwalt sourcing his rants to fake-news websites before. Such are WND's standards.
UPDATE: Zumwalt did it again in his Sept. 9 column, which was all about attacking the United Nations over humanitarian aid for Yemen. This somehow digressed to an attack on the Clinton Foundation:
The Charity Navigator organization mentioned above provides corruption ratings for 180 countries. When its data suggest something is seriously wrong with a charity, it puts it on a watch list before dropping it from its rating system. That was the fate suffered by the Clinton Foundation when its reports showed no more than 15 percent of what it received benefited charitable causes. If Charity Navigator monitored it, the U.N. would likely would suffer the fate of the Clinton Foundation.
That link goes to a website called NewsPunch, which has its own Wikipedia page describing the fake news it has published.
Further, the claim that the Clinton Foundation was a terrible charity because only 15 percent of the money raised was given to charitable causes is highly misleading. As FactCheck.org documented, the foundation had no need to provide funding to others because it did much of its own charible work. FactCheck itself reported that in 2013, 88.3 percent of spending went to programs.
FactCheck reported, Charity Navigator never claimed there was anything "seriously wrong" with the Clinton Foundation; its presence on the group's watch list regarded media questions about foreign donations to the foundation and was more about "news to know" than any formal red flag. Indeed, Charity Navigator gave the Clinton Foundation its highest rating in 2016.
Posted by Terry K. at 1:06 AM EDT
Updated: Sunday, September 22, 2019 6:18 PM EDT