Newsmax Lobbies For Ex-Employee Fleitz To Get A Different Trump White House Job
Topic: Newsmax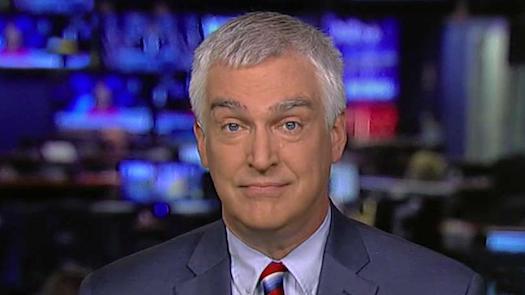 Newsmax really, really wants Fred Fleitz to have a job in the Trump administration.
We've documented how Newsmax lobbied for Fleitz to succeed Dan Coats as director of national intelligence -- while failing to disclose that Fleitz is a former Newsmax employee, having headed a short-lived subscription-based "global intelligence and forecasting" operation called LIGNET. Now, another Trump White house vacancy has brought another opportunity to lobby for Fleitz.
A Sept. 10 article by David Patten cited "informed sources familiar with the situation" to claim that Fleitz "has an inside track to replace outgoing National Security Adviser John Bolton," highlighting "a picture Fleitz tweeted shortly after 9 a.m. Tuesday, showing him standing by a seated President Donald Trump at the Resolute desk in the Oval Office" as an alleged "indication of the president's thinking." Patten added that "The picture is believed to be a recent image, and possibly from a Tuesday morning meeting with the president. The text Fleitz included in his tweet stated: 'Proud to help @realDonaldTrump keep America safe! @securefreedom.'"
Patten went on to cite "an intelligence community insider who directs an organization titled ReportForThePresident.org, which is believed to reflect the thinking of the intelligence community" who "told Newsmax on Tuesday he has received reports from his network that Fleitz is expected to get the nod to replace Bolton." Actually, ReportForThePresident.org looks to be little more than a pro-Trump, liberal-hating operation whose "statement of purpose" gushes about how "President Trump has done a remarkable job of keeping his promises by rebuilding our national security, defeating ISIS, creating jobs and global fair trade, reducing taxes, standing up for our rights, prosecuting human traffickers, and reducing the number of criminals coming across our southern border, despite countless diversions--from the fake Russia collusion story to other fantastic attacks by self-serving opponents." Further, the site's operator, Robert Caron, is also linked to a group called JTFMAGA, which in turn is reportedly linked to the QAnon conspiracy theory.
So, actually not that credible. Needless to say, Patten didn't tell his readers any of this, let alone that Fleitz is a former Newsmax employee.
The same day, Newsmax's John Gizzi wrote an article about how difficult it might be to find someone who would take Bolton's job, adding that Fleitz "was an alleged candidate and was reportedly a runner-up to be national Intelligence director" and had "worked closely with Pompeo when the secretary of state was a U.S. Representative and member of the House Intelligence Committee."
Fleitz even put in an appearance on Newsmax TV, as documented in a Sept. 16 article that's hidden behind a paywall.
Alas, as before, all this lobbying was for naught -- two days after Fleitz's Newsmax TV appearance, Trump picked Robert O'Brien as his new national security adviser.
Posted by Terry K. at 1:52 AM EDT