WND Revives Bogus Obseesion Over 'Mega-Mosque'
Topic: WorldNetDaily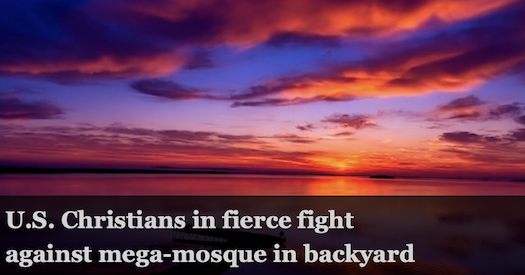 Back when WorldNetDaily had reporters, one of them, the Muslim-hating writer Leo Hohmann, became obsessed with a controversy over a planned mosque in Sterling Heights, Michigan, which he insisted on describing as a "mega-mosque" despite the fact that it would be no bigger than your typical Aldi grocery store and only a fraction of the size of a typical Christian megachurch. Hohmann had complained that mosque supporters invoked the Religious Land Use and Institutionalized Persons Act -- a federal law designed to protect religious institutions from discrimination in local zoning and landmarking laws -- which heclaimed was "being used to coerce cities into approving mosques, even when the mosque is in a residential neighborhood" (though WND never had any problem with Christian congregations invoking RLUIPA to get their church buildings built).
In the ensuing time, courts have upheld the Michigan city's right to permit the building of the mosque. In the meantime, mosque opponents have shifted their arguments as they continue to lose in court -- and WND is checking back in on the story.
A Sept. 2 WND article echoed the long-departed Hohmann's bias by declaring that "Chaldean Christians who escaped persecution from Muslims in their home country Iraq by fleeing to Sterling Heights, Michigan, now are fighting a proposed 21,000-square-foot mega-mosque in their neighborhood." Opponents have now enlisted the right-wing American Freedom Law Center (apparently, their version of "American freedom" doesn't involve freedom of worship for Muslims), which is trying to get a federal appeals court to reverse its decision upholding the city's right to permit the mosque by focusing on technical procedural issues:
"During this public meeting," AFLC said, "the mayor enforced a content- and viewpoint-based speech restriction that prohibited private citizens, including our clients, from making any comments that the mayor deemed critical of Islam, in direct violation of the First Amendment!"

Subsequent court rulings were "fraught with egregious errors," the legal team said.
Since WND is simply rewriting an AFLC press release -- no reporters, remember? -- it tells only one side of the story. Meanwhile, an actual news outlet told the full story: that the appeals court upheld the city's right to remove spectators from a city council meeting regarding the mosque because audience members had become disruptive; there were "more than two dozen outbursts" from the audience, some of which "disparaged Islam and the [American Islamic Community Center, which is building the mosque], calling them terrorists or terrorist-funded."
The WND article does not explain why the AFLC thinks disrupting public meetings with out-of-order disparaging attacks is a right that has to be protected.
And while the AFLC is trying to pretend otherwise, WND is admitting it's an anti-Muslim battle with the headline "U.S. Christians in fierce fight against mega-mosque in backyard." Perhaps the AFLC should be similarly honest and admit it's trying to stop construction of the mosque because it too hates Muslims and doesn't believe they deserve the same religious rights as Christians in America, despite what the Constitution says.
Posted by Terry K. at 9:02 AM EDT