Flashback: When The MRC Loved Joe Walsh
Topic: Media Research Center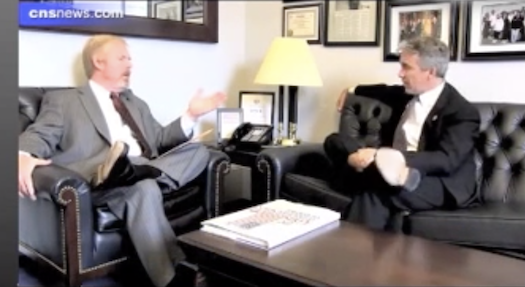 Nicholas Fondacaro devoted an Aug. 25 post to complaining that media outlets were giving a "platform to Trump's Republican challengers," particularly Joe Walsh. (No complaint, however, about how the MRC's "news" division, CNSNews.com, was giving a platform to Alexandria Ocasio-Cortez's challengers.) Fondacaro huffed that Walsh is a "never-Trump Republican" and that while ABC host and "Clinton lackey" George Stephanopoulos did highlight some of Walsh's controversial tweets, "they omitted ones far worse," adding, "If Trump had tweeted that, the media would rightfully be all over him."
You know who else couldn't care less about those controversial Walsh tweets? Fondacaro and the MRC -- at least until he became a never-Trump Republican. In fact, the MRC absolutely loved Walsh when he was being provocative as a "Tea Party congressman."
Let's take a look back:
How much did the MRC love Walsh? He even got a sit-down with MRC chief Brent Bozell, who loved Walsh's narrative-advancing claim that the media "are so vested" in Obama "not being a failure." This video was cross-posted at the MRC's "news" division, CNSNews.com.
The MRC even went all-in in defending Walsh against the deadbeat-dad charge. A February 2013 post by Matthew Sheffield complained about another newspaper "hit piece" on the subject that "did not give him a chance to respond to the allegation before it ran with the piece." Sheffield added, "The story is completely false, according to Walsh but the paper printed it anyway."
What has changed between then and now? Walsh violated the new conservative omerta: No Republican is allowed to criticize Trump. Fondacaro should perhaps have told that to his readers to explain the MRC's flip-flop on Walsh.
Posted by Terry K. at 8:45 PM EDT
Updated: Sunday, September 8, 2019 9:08 PM EDT