CNS Branded Obama As Narcissist, But Trump's 'Chosen One' Claim Is 'Sarcastic'
Topic: CNSNews.com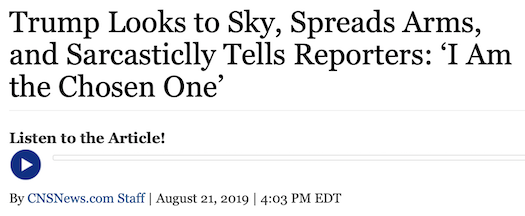 One of the partisan narratives CNSNews.com pushed during the Obama presidency was the President Obama was a narcissist. Not only did it count how many times Obama used the word "I" during his speeches, it ran opinion pieces reinforcing the narrative, for instance:
Despite the fact that Donald Trump has proven to be much more narcissistic than it has ever accused Obama of being, CNS has pargely ignored it. And when Trump does engage in a narcissistic display that can't be ignored, it will try to pass it off as something else.
Thus, an anonymously written Aug. 21 article spinning Trump's "I am the chosen one" claim -- which CNS would immediately brand as narcissistic if it came out of Obama's mouth -- into an example of how he is a leader:
In a press conference outside the White House today, President Donald Trump looked to the sky, spread his arms, and told reporters: "I am the chosen one."
The president was making the case that he is the one president who has been willing to take on China over the issue of trade.
The headline had a different spin, declaring that "Trump Looks to Sky, Spreads Arms, and Sarcasticlly [sic] Tells Reporters: 'I Am the Chosen One'" -- portraying the remark as a joke instead of narcissism.
Just another example of the Trump sycophancy at CNS -- which includes suggesting that Trump's election was ordained by God.
Posted by Terry K. at 12:36 AM EDT
Updated: Tuesday, September 3, 2019 6:14 PM EDT