WND Blames Copycats, Not Trump, For Massacres
Topic: WorldNetDaily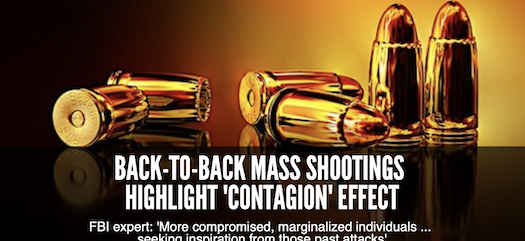 WorldNetDaily responded to the shootings in El Paso and Dayton much the way its fellow right-wingers at the Media Research Center did: with distraction from Trump's rhetoric and whataboutism to attack Democrats.
Article on how the Dayton shooter's alleged support for Elizabeth Warren (from Art Moore)? Check. Playing whataboutism over inflammatory rhetoric to take the heat off Trump (by Michael Brown and an anonymous writer)? Check and check. Denyhing the El Paso shooter had any white nationalist motivation (from Andy Schlafly)? Check.
But for that added WND touch, we have to turn to David Kupelian, who tries to sound all smart and stuff (while also deflecting attention from Trump's rhetoric) by blaming the copycat effect, suggesting that the shooting at a festival in California triggered these shootings:
But in light of the close proximity of these two most recent mass shootings, as well as the mass shooting just six days earlier, at a garlic festival in Gilroy, California, resulting in three dead (plus the shooter) and 12 injured, consider the problem from a different vantage point – one that casts the growing incidence of mass-shootings in terms of "contagion." Or in more everyday terms, the "copycat crime" effect.
Kupelian even found a way to work in some Muslim-bashing: "Likewise, jihad – the Islamic variety of mass-murder madness – has proven so susceptible to the copycat phenomenon that imitation may be the single most important factor involved, especially since jihad cheerleaders and recruiters encourage precisely that."
Kupelian was careful not to mention the 2011 massacre in Norway perpetrated by Anders Breivik that killed dozens -- perhaps because WND is cited six times in his manifesto.
Posted by Terry K. at 2:28 AM EDT