CNS Portrays Mueller As Bumbling, Touts GOP Attacks On Him
Topic: CNSNews.com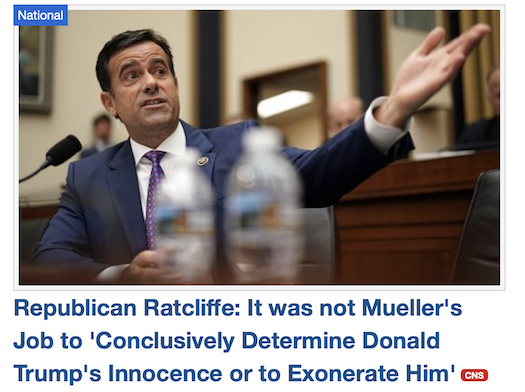 CNSNews.com -- as it usually is when someone serves up testimony that might make conservatives or President Trump look bad -- went on the attack when special counsel Robert Mueller testifed before Congress. CNS had already put a pro-Trump spin following the release of his report investigating various Trump-related activities and Mueller's subsequent statement, and it would crank up the bias even higher here.
In the week before Mueller's testimony, CNS gave space to Republican Rep. Devin Nunes twice -- first to promote his never-proven conspiracy theory that Mueller was "back-channeling" with Democrats before the hearings, then later to complain that he will "expect the worst" and repeat the less-than-true claim that the Mueller report showed there was "no collusion" and "no obstruction" on Trump's part and was just "an obstruction of justice trap." (Pro-Trump CNS reporter Susan Jones wrote both of these articles, so fact-checking of Nunes was never going to happen.) Jones also dialed up another Republican congressman to prebut the hearing as "another round of what we already know."
In what passes for balance at CNS, Jones also wrote a preview article on Democratic Rep. Jerry Nadler's views on thte hearling -- but she inserted her own attacks and bias, grousing that "Democrats, concerned that Americans have not read the report, believe that having Mueller tell the story on television may galvanize opposition to the president" and weirdly complaining that the hearing came "at the height of summer vacation time." She also uncritically repeated rage from Trump and other Republicans complaining that Mueller would be joined by his chief of staff on the Trump probe.
When it came to the hearling itself, CNS operated on two tracks of bias. The first was portraying Mueller as bumbling or inept -- or, failing that, absolutely clearing Trump -- in these articles:
CNS also elevated grandstanding Republicans who attacked Mueller in their questioning:
How biased was the coverage? CNS did not name any Democratic members of Congress in headlines regarding their questions.
Jones also wrote an article on a congressman identified in the headline only as "Democrat on Judiciary Committee" pushed for concise questions. Jones added: 'Unlike many congressional hearings, where members use their questions to grandstand and show off, Democrats want the focus today to be on Mueller." Of course, CNS rewards such grandstanding when Republicans do it.
After the hearing, CNS devoted three articles to pushing Republican spin about it:
By contrast, CNS published only one article on what Democrats had to say.
And Craig Bannister played clean-up by gushing over how Trump "tweeted a video montage of 'The Media's Mueller Meltdown'" taken from Fox News.
That's the way CNS' right-wing, pro-Trump bias works.
Posted by Terry K. at 12:15 AM EDT
Updated: Tuesday, August 6, 2019 4:55 PM EDT