Fake News: WND Uncritically Pushes Obama 'Shadow Government' Conspiracy Theory From Trump's Attorney
Topic: WorldNetDaily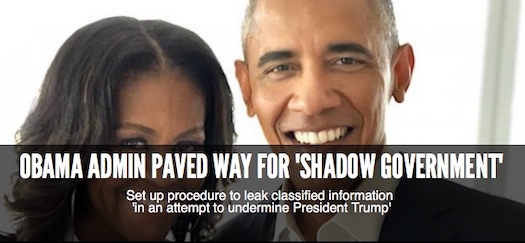 An anonymously written June 25 WorldNetDaily article breathlessly asserts:
Yet another major Obama administration scandal has been uncovered.

This one centered on then-Director of National Intelligence James Clapper leaking classified information that endangered national security "in an attempt to undermine President Trump," according to the American Center for Law and Justice.

ACLJ's Jay Sekulow said Clapper changed policy to make it easier to share intercepted information among intelligence agencies, according to documents obtained through several Freedom of Information Act lawsuits against the ODNI and the National Security Agency.

They revealed that Clapper, in the latter days of his tenure as ODNI, "rushed" put new procedures in place.

"The documents also reveal that ODNI's Robert Litt told Office of the Undersecretary of Defenses' Director of Intelligence Strategy, Policy, & Integration (and also USDI's Liaison to ODNI): 'Really want to get this done … and so does the Boss."

The documents show the plan was approved by Clapper and then-Attorney General Loretta Lynch.

"It was not immediately clear just how significant these revelations were. Now we know," ACLJ said.

"Consider what we now know about the nature and degree of Deep State opposition to President Trump. With the public revelations about the infamous disgrace known as the Steele dossier, FISA abuse and the underpinnings of Crossfire Hurricane, as well as former-DNI James Clapper's open hostility to President Trump and intentional leaking by senior law enforcement and intelligence actors – all of which appears to show a coordinated effort across agencies to oppose the Trump administration – the picture is coming into focus," ACLJ said.
Except -- as with a lot of things WND publishes -- that's not exactly true. We'll let Wonkette explain what WND won't:
Here's the back story. In July 2008, outgoing President Bush modified a 2004 executive order (which was itself a modification of a 1981 EO signed by Ronald Reagan) on intelligence sharing. The new executive order made it easier for the National Security Agency (NSA), to share the vast quantities of data it was collecting with other members of the intelligence community (IC), particularly the CIA and FBI. Reasonable people can argue, as Edward Snowden did, that the NSA is amassing dangerous amounts of data and needs to be reined in. But after 9-11, the IC was roundly blamed for failing to share information that might have prevented the attacks. So George W. Bush, a Republican, ordered the Director of National Intelligence (DNI), the Attorney General, and the Secretary of Defense to put their heads together and come up with some procedures for intelligence sharing between the agencies. These are the procedures Jay Sekulow is pretending were instituted to enable the DEEP STATE to spy on Donald Trump.

Which makes no goddamn sense, but HEY HELLO have you seen this email from Office of the DNI's General Counsel Robert Litt saying, "Really, really want to get this done ... and so does the Boss"? What if you knew that SOMEONE sent an email saying, "We could have a signature from the AG as early as this week, certainly prior to the 20th Jan?" Would you then be convinced that these plans which had been in the work for eight years were part of a sinister plot to tapp Trump's fraying, orange wires?

[...]

Check out the 26 pages of procedures for unaccountability to provide "classified information" to those "bureaucrats" at the FBI and CIA who have satisfied legally binding criteria establishing their need for it and undergone extensive training on how to keep it secure. Pretty nefarious of James Clapper and Loretta Lynch to want to get this signed before leaving office, huh Jay?

[...]

Moreover, as Marcy Wheeler points out, Trump could have rescinded that executive order any time in the past two-and-a-half years if he thought it was a license to spy on him. But he didn't give a damn until his lawyer managed to cherry-pick three pages from a document dump -- uploading them as three, separate PDFs with zero context is a nice touch -- and launched himself into a rant about DEEP STATE OBAMA FBI CONSPIRACY ARGLEBARGLE HENGHHHHHH.
And WND forgets to inform its dwindling reader base that Sekulow is also wearing the hat of Trump's attorney, which makes the validity of the claims -- which WND could not be bothered to verify -- even more suspect.
Burt why let the truth get in the way of a good conspiracy theory, right, WND?
Posted by Terry K. at 2:07 AM EDT