CNS Gives Mueller Statement A Pro-Trump Spin
Topic: CNSNews.com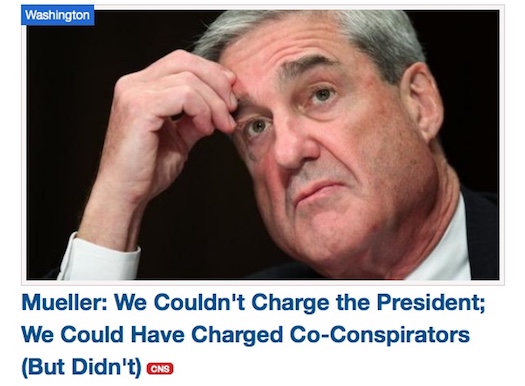 CNSNews.com was in full pro-Trump spin mode when the Mueller report came out, and it jumped back into spin mode when Robert Mueller himself made a public statement about his report.
The narrative CNS pushed was that even though Trump could not be charged with a crime due to Department of Justice policy that a president cannot be charged while in office, no alleghed co-conspirators were either; thus, Trump could not have possibly committed a crime. Susan Jones framed itas such in her lead article:
"The matters we investigated were of paramount importance," Special Counsel Robert Mueller said on Wednesday in his first public statement on the Trump-Russia investigation since he released his report.

Mueller said in addition to Russian interference, he was authorized to investigate actions that could have obstructed the investigation, and while Justice Department policy prohibits the indictment of a sitting president, co-conspirators could be charged now, if the evidence supported such charges -- but apparently it didn't.
Jones later added parenthetically to drive home the narrative: "[Mueller did not charge any "co-conspirators" with obstruction, but he did not mention that on Wednesday.]"
Melanie Arter echoed the narrative in a sidebar on Mueller's contention that he could not determine if Trump committed a crime: "Mueller also said that the evidence used in the investigation of Trump could have been used to charge co-conspirators. However, no one has been charged with conspiracy in the probe – a fact that Mueller did not mention."
Craig Bannister served up the usual stenographical sidebars: repeating a Trump tweet cheering that the case was closed and uncritically quoting White House Press Secretary Sarah Sanders' contention that everyone should move on with their lives. Bannister did also serve up the lone article on Mueller that didn't have a right-wing bias, a statement from Nancy Pelosi that the Mueller report will be used as a blueprint for future action against Trump.
But that's just window dressing. The point was to spin for Trump, and CNS fulfilled that mission.
Posted by Terry K. at 1:32 AM EDT
Updated: Friday, June 7, 2019 5:10 PM EDT