Dishonest WND Portrays Women Who Threatened To Blow Up Church As 'NBC Producer'
Topic: WorldNetDaily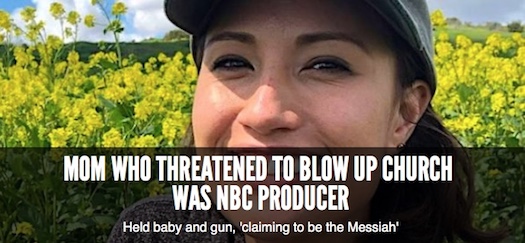 The article trying to blame a journalist's sexual orientation for his suicide is not the only recent example of WorldNetDaily misleading about people involved in journalism. An April 24 WND article by Joe Kovacs carries the headline "Mom who threatened to blow up church was NBC producer." But Kovacs walks back that headline over the first three paragraphs of his article:
A woman "claiming to be the Messiah" who threatened to blow up a California church on Easter Sunday while carrying her baby and a gun is a former digital producer for the NBC-TV affiliate in San Diego.

Anna Conkey, 31, was tackled by her fellow churchgoers during the April 21 incident at the Tsidkenu Church in the Clairemont area of San Diego.

NBC 7 says Conkey is also a former intern at the station, as well as a U.S. Navy veteran and graduate of San Diego State University.
So Conkey wasn't an "NBC producer" after all -- she was some undetermined point an intern working in digital production for the NBC affiliate station in San Diego.
Kovacs does make it clear further in the article that the woman was apparently having mental health issues -- which means her media work had nothing to do with the incident and that WND's hook of portraying her as a journalist who hated religion enough to threaten to blow up a church is doubly dishonest.
No wonder WND is losing readers (and money).
Posted by Terry K. at 3:49 PM EDT