MRC Falsely Puts A Swear Word In A Commentator's Mouth
Topic: Media Research Center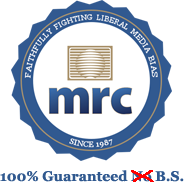 The Media Research Center's Brad Wilmouth was in full rage mode, and it seemed justified at first (by right-wing standards, anyway). Under the screaming headline "Heilemann Slams 'Big Fat Steaming Plate of Hannity,' 'Pig in ****'," Wilmouth huffed in a May 3 post:
On Wednesday's The 11th Hour with Brian Williams on MSNBC, during a discussion of Fox News reaction to Attorney General Bill Barr's testimony on the Mueller report, John Heilemann derided FNC host Sean Hannity as a "steaming, hot pile of Hannity" who is as "happy as a pig in ****" as the MSNBC national affairs analyst seemed annoyed at having to react to the conservative Fox News host's commentary.
Just one problem: Heilemann never said the swear word that Wilmouth portrays him as saying. As Wilmouth later writes in his piece, Heilemann actually said: "There's a phrase, people talk about a 'pig in,' you know. That's Sean right now -- he's happy as a pig in, you know."
So Wilmouth is lying. There's a difference between implying a swear word and speaking around it -- which Heilemann did -- and actually saying the word, which Heilemann did not but Wilmouth portrays him as doing.
Wilmouth's sloppiness goes even further. His first paragraph misquotes Heilemann by claiming he referred to a "steaming, hot pile of Hannity," when Heilemann actually said "a big, fat, steaming plate of Hannity." Doesn't anybody edit anything at the MRC these days? (Ask Tom Blumer.)
As of this writing, the MRC has not acknowledge Wilmouth's falsehood or issued a correction. Its failure to do so hurts whatever credibility it has.
Posted by Terry K. at 3:04 PM EDT
Updated: Monday, May 20, 2019 3:09 PM EDT