MRC Defends Its 'Thomas the Tank Engine' Freakout
Topic: Media Research Center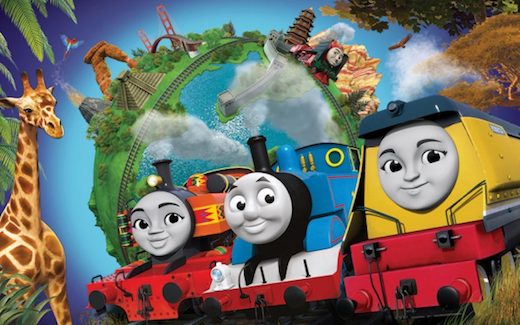 Remember the Media Research Center's freakout last year over the idea that the children's show "Thomas the Tank Engine" wanted to expand its audience by introducing trains from various cultural backgrounds? Well, the MRC still thinks that was a very smart take.
In a March 13 MRC post, Clay Waters complains that the New York Times attacked the National Rifle Association's TV operation for, among other things, having an even bigger freakout over "Thomas" by "portraying the show's talking trains in Ku Klux Klan hoods." But Times writer Danny Hakim was ignoring relevant context, Waters huffed:
Hakim left out the context, which Newsbusters provided at the time. The show was being pressured by the social justice left into adding female characters and "friends" from other countries. Slate's Jessica Roake called the show Thomas the Imperialist Tank Engine and branded the series "sinister," while New Yorker decried its "repressive, authoritarian soul." But hysterical overreaction over a kids' show is acceptable from fellow liberal journalists. It's only when the right takes part does it suddenly become worrisome[.]
Both of those articles were cited in the NewsBusters piece by Melissa Mullins. But the Slate piece dates from 2011, and the New Yorker ran in 2017. Two pieces over six years doen not a "pressure campaign" make, and neither Mullins nor Waters prove that they had any direct effect on the show's adjustments.
On the other hand, Waters does seem to be doing, however stealthily, what very few at the MRC have the guts to admit "hysterical overreaction" on the part of the NRA. Is he applying that to Mullins as well?
Waters took other potshots at the Times article as well, dismissively claiming that "Hakim rounded up anything he could toss at the gun-rights group" by reporting the highly relevant fact that NRA board members are questioning the multimillions the group paid to the ad firm that runs the NRA's TV operation, and he also played whataboutism by arguing that the channel's increasingly extremist content was no differnt in tone from "left-wing outlets."
Posted by Terry K. at 1:49 PM EDT