WND Tries To Baselessly Blame TB Cases On Illegal Immigrants
Topic: WorldNetDaily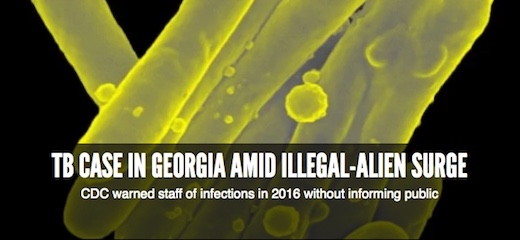 The first three paragraphs of an anonymously written March 6 WorldNetDaily article focused on how "More than 200 Georgia high school students were tested for tuberculosis after a student was diagnosed with the disease, the third case in the state in two weeks." That was a rewrite of a story from a Georgia TV station, which made no mention of the legal status of anyone involved.
Yet the rest of the WND article was spent on fearmongering about filthy, disease-ridden illegal immigrants, such as touting a former congressman's claim that "minors from Central America were importing infectious diseases considered to be largely eradicated in the United States."
WND even touted the ex-congressman claiming that "many of the migrants lacked basic vaccinations such as those to prevent chicken pox or measles" -- even though WND has been giving space recently to anti-vaccine activists.
This is a misleading story, implying a link between the Georgia TB cases that it can't prove exists by repeating irrelevant fearmongering. Of course, WND has a history of fearmongering about disease-ridden immigrants.
Posted by Terry K. at 12:40 AM EDT
Updated: Saturday, March 16, 2019 8:47 AM EDT