CNS Dips A Toe In The Anti-Vaxxer Pool
Topic: CNSNews.com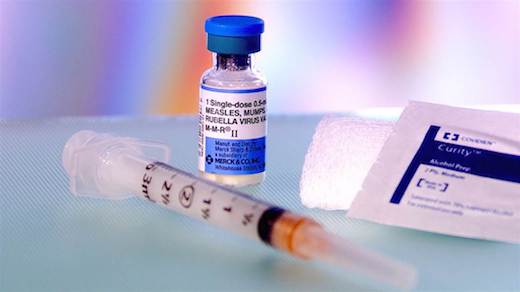 We've documented how CNSNews.com has been drifting toward WorldNetDaily territory, in both editorial bias and embrace of conspiracy theories. CNS is now trying on another WND conspiracy theory: anti-vaccine activism.
CNS published a March 6 column by right-winger Michelle Malkin in which she ranted about how "Capitol Hill and Silicon Valley have locked their sights on the next targets of a frightening free speech-squelching purge: independent citizens who dare to raise questions online about the safety and efficacy of vaccines," blaming "pharmaceutical big business" for being behind "politicians and government bureaucrats [who] are now hell-bent on deplatforming any and all dissenters who challenge mandatory vaccine regimens."
Malkin, though, doesn't quite have the conviction of her beliefs, conceding: "I'm vaccinated. My children are up to date. There's no dispute that vaccines have saved untold lives" -- which sort of undercuts the whole point of ranting against vaccines. She also admits there's "junk science on the 'anti-vaccine' side," but also complains that the film "Vaxxed" -- made by the defrocked doctor who pushed the discredited claim that vaccines cause autism -- was pulled from some streaming outlets.
Malkin then tries to play gotcha:
As for efficacy, consider this new data: A recent whooping cough outbreak at the private Harvard-Westlake School in Los Angeles last week resulted in 30 students contracting the illness, all of whom were vaccinated. Of 18 unvaccinated students, none caught the disease. Will pointing this out on my Facebook and Twitter accounts bring down the Silicon Valley ban hammer?
Malkin is pretending not to know that it's common knowledge that the whooping cough vaccine, part of the Tdap vaccine series, loses efficacy over time and requires a booster shot at age 11 or 12. The fact that none of the unvaccinated students didn't get whooping cough can likely be chalked up to coincidence rather than any magical non-vaccination power.
The next day, managing editor Michael W. Chapman gave Republican Rep. Rand Paul a platform to rant against mandating vaccinations without presenting an opposing view. But Chapman also let Paul undercut his own argument: "I'm not here to say don't vaccinate your kids. ... I vaccinated myself. I vaccinated my kids."
Chapman also let Paul huff that ""Despite the government admitting to and paying $4 billion for vaccine injuries, no informed consent is used or required when you vaccinate your child. This may be the only medical procedure in today's medical world where an informed consent is not required." Chapman didn't report the actual numbers of people involved: According to the federal government, that $4 billion involves just 6,430 cases judged to meet standards for compensation, out of the millions upon millions of people who have been vaccinated during that time. The government adds:
According to the CDC, from 2006 to 2017 over 3.4 billion doses of covered vaccines were distributed in the U.S. For petitions filed in this time period, 6,197 petitions were adjudicated by the Court, and of those 4,250 were compensated. This means for every 1 million doses of vaccine that were distributed, 1 individual was compensated.
Sounds like vaccines are quite safe. But Chapman couldn't be bothered to tell the full story.
Posted by Terry K. at 11:30 AM EDT