MRC Suddenly Loves Jorge Ramos After His Detention In Venezuela
Topic: Media Research Center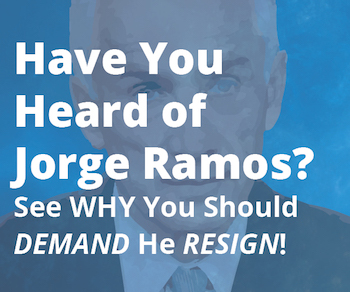 We've noted how the Media Research Center's MRC Latino division seems to have been formed just to attack Hispanic journalist Jorge Ramos -- to the point of demanding that he resign. But now Ramos has played into the MRC's right-wing agenda, and suddenly its criticism of him has subsided.
Last month, Ramos' news crew was detained overnight in Venezuela by the government of Nicolas Maduro -- whom the MRC wants to make sure you know is a socialist, and that socialism alone is responsible for Venezuela's current state of collapse (though that's not actually true) -- and Ramos has denounced his detention as a act of repression and a violation of international law.
So, of course, the MRC's first reaction to this was to ... defend President Trump?
Yep. An anonymously written Feb. 26 piece, credited only to "MRC Latino Staff" and carrying the headline "Venezuela Is Not Iowa," touted how Ramos feeling actual repression means that Trump's kicking ramos out of a news conference is utterly benign by comparison:
Maduro literally held Ramos and crew; and seized their equipment while inflicting psychological torture on the Univision News crew - all for the sin of asking uncomfortable questions. To suggest that this is somehow similar to Trump's ejection of Ramos of the press conference forvbreaking protocol and heckling, only to bring him back minutes later and take his questions, minimizes the gravity of what actually happened in Caracas and threatens to erode whatever goodwill Ramos rightly deserves for having endured such an outrageous act of journalistic repression.

The only proper takeaway from this incident is that these actions are the last gasps of a dying regime that struggles to hold power by any means necessary against the will of a people that yearn to be free after two decades of misery, starvation, and death. Anything else is just noise and nonsense.
(Of course, as we noted, the MRC had no problem when the reporter engaing in heckling and breaking protocol is a conservative and the president is named Obama.)
The same day, Curtis Houck touted an appearance by Ramos on Sean Hannity's Fox News show "to discuss his brief detainment in Venezuela by the murderous Nicolas Maduro regime." In a similar Trump-protecting moment, Houck particularly gushed over "perhaps the most profound thing he said ... which was the fact that, despite his dislike of President Donald Trump, assaults on press freedoms like what took place in Venezuela don't happen in America."
The minute Ramos says anything even remotely critical of Trump again, though, look for the MRC to once again demand his head on a platter.
Posted by Terry K. at 9:18 PM EST