CNS Touts Anti-AOC Billboard, Doesn't Disclose It's Funded By Same Folks Who Fund CNS
Topic: CNSNews.com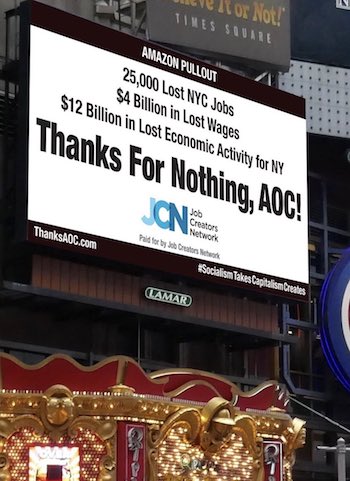 Craig Bannister gleefully writes in a Feb. 20 CNSNews.com blog post:
On Wednesday, a billboard in New York's Times Square criticizing Rep. Alexandria Ocasio-Cortez (D-NY) for having opposed Amazon's plans, which Amazon has now cancelled, to open a headquarters in the city, began a one-week run.

The billboard highlights the cost to New York of Amazon's decision not to open a headquarters there, Job Creators Network, the ad's sponsor explains in its press release:

"Today, the Job Creators Network is putting up a billboard in Times Square calling out Rep. Alexandria Ocasio-Cortez for the role she played in the recent termination of Amazon's HQ2 that was planned to be constructed in Queens. The pullout of Amazon—because of anti-business politicians, notably Ocasio-Cortez—is a major blow to the New York economy. The retreat will not only cost the area $12 billion in economic activity, but 25,000 new jobs that would have paid an average salary of $150,000."


The billboard, located on 42nd Street near 8th Avenue, is headlined "AMAZON PULLOUT, Thanks For Nothing AOC" and ends with the hashtag, #SocialismTakesCapitalismCreates.

In a tweet, conservative commentator Laura Ingraham thanked Job Creators Network for the billboard and posted a picture of it.
But Bannister is curiously silent on a conflict of interest he should have disclosed. As Ocasio-Cortez noted in a tweet responding to the billboard (and Mediaite further detailed), the Job Creators Network is funded by the Mercer family, which has their money all over right-wing politics.
And CNS' parent, the Media Research Center, is heavily funded by the Mercers as well -- as we documented, the Mercers are the single largest MRC donor, providing one-fourth of its annual budget, and a member of the family, Rebekah Mercer, sits on the MRC's board of directors.
An honest writer would have disclosed that. Bannister has not proven that he is one.
Posted by Terry K. at 7:52 PM EST
Updated: Thursday, February 28, 2019 7:53 PM EST