Judith Reisman's Bogus Trump-Fluffing Numbers
Topic: WorldNetDaily
Judith Reisman, the factually challenged
Kinsey-hating obsessive
, used her Jan. 12 WorldNetDaily
column
to tout "the success President Trump has had in fighting human trafficking compared to his predecessor, Barack Obama, as seen in the chart above." She added:
The first 18 months of the Trump presidency saw a 743 percent increase in arrests of traffickers over the first two years of Barack Obama's first term.
Under Trump's helm, 9,200 individuals were arrested on suspicion of human trafficking in 18 months. Under Obama, 1,238 were arrested for trafficking during his first two years. During eight years in office, Obama's administration made only 42 more arrests for human trafficking than Trump's administration made in his first 18 months! How many precious lives were saved by those 9,200 arrests!
Just one little problem: The numbers for Trump are more than a little dubious. Here's the chart Reisman is referring to: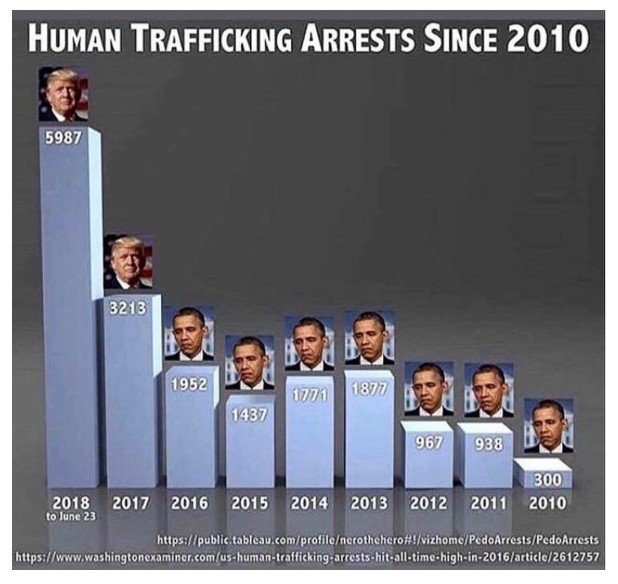 Note the sources listed for the numbers. The first, from the
Washington Examiner
, covers the Obama years and come directly from the federal government. The second is an
anonymous list
of arrests allegedly made under Trump that offers no verification whatsoever, let alone any credibly sourcing.
An actual news outlet told the story of how these never-verified statistics -- in this case, originating with a group of conspiracy theorists -- spread on the right:
On July 7, Charlie Kirk, founder of Turning Point USA and frequent Fox News contributor, published a tweet that contained startling but inaccurately sourced statistics about the alleged growth of human trafficking arrests under the Trump administration. It stated there were 1,952 human trafficking arrests through all of 2016, but in the first half of 2018 authorities had already made an astounding 5,987 human trafficking arrests. Kirk's tweet falsely claimed these figures came from the Justice Department.

Kirk deleted the tweet shortly after the true source of its figures was revealed: the notorious imageboard 8chan, home of the QAnon conspiracy "researchers" of the /qresearch/ board. The board's "research," which consisted of sloppily compiling information from nationwide news reports about human trafficking and child pornography arrests and charges, seeks to support a core belief of the QAnon conspiracy theory — that Trump is secretly battling a corrupt deep state and an evil cabal of pedophile Satan-worshiping elites. QAnon believers think if they can show that more human traffickers are being arrested, it will support the baseless notion that Trump is finally putting an end to long-protected trafficking rings used by these elites.

Though Kirk may not have realized it at first, he had bought into the collective fantasy of some of the Internet's most outré Trump fans.
Reisman never explains where, exactly, that chart in her article came from, but it's unlikely that she made it -- it likely emerged from the same far-right fever swamp that generated the bogus statistics.But as another, more responsible writer points out, "the image failed to note that the two sources relied on two completely different methods of data gathering. The inconsistency means it can't be used to accurately conclude that human trafficking arrests have increased nationwide."
WND obviously never bothered to fact-check Reisman's column and, thus, is once again guilty of publishing fake news. Will they ever learn?
Posted by Terry K. at 2:09 AM EST