Shocker: CNS' Jeffrey Finally Calls Out GOP For Contributing to Federal Debt
Topic: CNSNews.com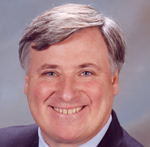 We've documented how CNSNews.com editor in chief Terry Jeffrey has been quick to blame Democrats for running up the national debt while refusing to call out Republicans for their roles in running up that same debt. Shockingly, Jeffrey has finally gotten around to specifically laying blame where it deserves.
Weirdly presented as his weekly column instead of a "news" article like most of his debt-related tirades, Jeffrey headlined his Jan. 9 piece "Republican House Increased Debt $7.9 Trillion in 8 Years." He even calls out his favorite president, Donald Trump, in doing so:
The recently deposed Republican majority increased the federal debt by $7.9 trillion in the eight years it controlled the House of Representatives.

At the close of business on Jan. 4, 2011, the day before the Republicans took control of the House, the debt was $14,014,049,043,294.41, according to the Treasury.

On Jan. 3, 2019, the last day before the Republicans turned control of the House back to the Democrats, the debt closed at $21,929,258,046,653.58.

So, under the Republican House majorities in four Congresses, the debt climbed $7,915,209,003,359.17.

That works out to approximately $989,401,125,420 per year, or $2,710,688,015 per day, or $112,945,334 per hour, or $1,882,422 per minute.

In fact, under the Republican-controlled House, the federal debt increased at an average rate of $31,374 per second.

Some Republicans may claim they should not be blamed for the massive increase in the federal debt during the eight years they controlled the House. They may say: "For four of those eight years, the Democrats controlled the Senate." Or: "For six of those eight years, Barack Obama was president."

But the Constitution says, "No Money shall be drawn from the Treasury, but in Consequence of Appropriations made by Law."

And no law may be enacted unless it passes the House.

A Republican-majority House approved every one of the federal spending laws enacted over the past eight years.

Not only that, but all of the spending laws enacted since Jan. 20, 2017, when President Donald Trump was inaugurated, have been approved by a Republican-majority House, a Republican-majority Senate and a Republican president.
That was the first half of Jeffrey's column; the latter half was devoted to arguing that "The federal debt did not climb by nearly a trillion dollars a year under a Republican-controlled House because the government did not tax enough. It climbed because the government spent too much.
Posted by Terry K. at 9:33 PM EST