Shocker: CNS Managing Editor Doesn't Support A Trump Action. Not A Shocker: It Involves Gay Judges
Topic: CNSNews.com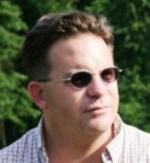 CNSNews.com's gay-hating managing editor, Michael W. Chapman, has struck again. This time, in a Oct. 31 article, Chapman finds the rare Trump action he clearly can't support:
President Donald J. Trump recently nominated the openly gay lawyer Patrick J. Bumatay to serve as a judge on the U.S. Court of Appeals for the Ninth Curcuit, historically a liberal legal redoubt. The Ninth Circuit covers federal appeals for Alaska, Arizona, California, Hawaii, Idaho, Montana, Nevada, Oregon and a few other districts.

[...]

Bumatay has worked at the Department of Justice and in the office of the deputy attorney general. He earned his B.A., cum laude, from Yale University and his J.D. from Harvard Law School. He is a member of the National Filipino American Lawyers Association, the Tom Homann LGBT Law Association, and The Federalist Society.

The Tom Homann LGBT Association "is dedicated to the advancement of gay, lesbian, bisexual and transgender issues throughout California and the nation," states its website. Its founder, Tom Homann, was a strong advocate for ensuring that explicit, hardcore pornography was available to the public and that topless bars were not not burdened by too many city rules, according to the website.

Bumatay is Trump's second openly gay nominee to a federal bench. In June, Trump picked Mary M. Rowland to serve as a judge on the U.S. District Court for the Northern District of Illinois.

[...]

Rowland, 57, earned her B.A. from the University of Michigan and her J.D. from the University of Chicago. Rowland is a member of the Lesbian and Gay Bar Association of Chicago and has done pro bono work for Lambda Legal. She is "married" to Julie E. Justicz and they have two children.
For added insult, Chapman included a picture of Rowland and her spouse, putting "wife" in scare quotes.
Chapman also rewrote Homann's achievement for maximum inflammatory effect. He translated a statement from Homann's bio that he "fought with the city to prevent it from shutting down the F Street adult bookstores or limiting the materials they sold" and " fought city efforts to license and restrict the operations of topless bars" into an endorsement of "hardcore pornography" and licentiousnews at topless bars. Funny, we figured that Chapman, as a dedicated Trump Republican, would be totally down with making sure that a legal business was "not burdened by too many city rules."
Posted by Terry K. at 3:11 AM EST
Updated: Thursday, November 29, 2018 3:12 AM EST