MRC Writer Criticizes NY Times Obit Of Conservative, Doesn't Disclose Man Gave Money to MRC
Topic: NewsBusters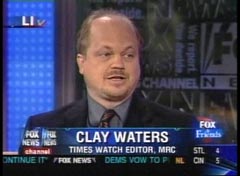 Clay Waters complains in an Oct. 15 NewsBusters post:
Monday's New York Times obituary by Robert McFadden for American beer pioneer William Coors (of the brewing company that carries his name) violated the usual tasteful norms for an obit, starting with the headline and the text box: "William Coors, Ultraconservative Leader Of Brewery Based in Colorado, Dies at 102." The text box: "A chairman's speeches were often labeled racist, sexist and homophobic."
Waters also complained that "McFadden stubbornly kept the focus on liberal outrage, not the Ivy League chemical engineer who had an inventive and successful career building the company." Curiously, Waters did not dispute the accuracy of those claims -- perhaps because the obit lays out in detail the evidence to support them.
Waters failed on another count: He didn't disclose that the Media Research Center, which publishes the blog on which his post appeared, has reportedly received funding from the Castle Rock Foundation, which was backed by Coors money.
Seems like an important conflict of interest to report, yet Waters failed to do so.
Posted by Terry K. at 11:13 AM EDT