CNS Cheers Indian-Named Teams Losing on Columbus Day
Topic: CNSNews.com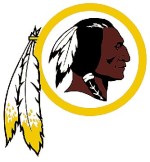 Michael Morris' Oct. 9 CNSNews.com blog post is a needlessly spiteful one, given that it effectively cheers the fact that three Indian-named sports teams lost on Columbus Day:
Three professional sports teams with Native American names, the Cleveland Indians, the Atlanta Braves and the Washington Redskins, all lost on Columbus Day 2018, yesterday.

Two of the professional teams receiving losses on Columbus Day were Major League Baseball teams: the Cleveland Indians and the Atlanta Braves. Both have been eliminated from the playoffs.

The Cleveland Indians faced off against the Houston Astros in Game three of the ALDS. Prior to the game, Houston led the series 2-0. Houston would go on to take the series, roundly defeating the Indians 11-3.

The Atlanta Braves were defeated in game 4 of the NLDS by the Los Angeles Dodgers by a score of 6-2. The Dodgers won the series 3-1 over the Braves.

The lone professional football team receiving a loss on Columbus Day was the National Football League's Washington Redskins.

The Washington Redskins were likewise defeated on Columbus Day. By a score of 43-19 the New Orleans Saints handed the Redskins another loss. The Saints improved to 4-1 on the season, while the Redskins fell to .500 at 2-2 on the season.
Last year, CNS published a column by Bill Donohue mocking the idea of redefining Columbus Day as Indigenous People's Day because "No one really knows who, or what, an 'indigenous' person is" and because "the furor over Columbus ... is as contrived as it is baseless." It published another column, by Grazie Christie, claiming that criticism of Columbus represented "assaults on societal unity," and a third column, by Patrick Korten, declared that "Leftist attacks on the explorer are based on bigotry and lies."
Meanwhile, Morris' co-workers down the hall at the Media Research Center have raged against the idea that the Redskins should change their name because it's a slur against Native Americans.
Posted by Terry K. at 2:55 PM EDT