WND Touts Fake-News Claim of Muslims 'Proselytizing' In School
Topic: WorldNetDaily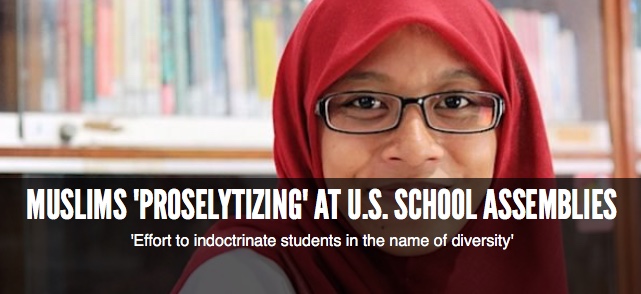 WorldNetDaily still can't wean itself off pushing fake news.
An anonymously written Sept. 9 WND article is in large part a rewritten press release from the right-wing Freedom of Conscience Defense Fund accusing Muslim groups -- including the Council on American-Islamic Relations, which right-wingers hate -- to "proselytize" to students in a California school district in the wake of reports of discrimination and bullying against a Muslim student. The FCDF has no evidence that any "proselytizing" ever took place; it just wants to go on a fishing expedition through the school district's emails.
WND made no attempt to contact the school district in question for a response -- that would require work that takes away from rewriting a press release -- though it did soften FCDF's wording to state the district is "suspected of proselytizing." Still, WND is reporting fake news because there's no evidence to back up the claim. It appears the FCDF is merely reacting to an article in a local newspaper on the bullied student and apparently not from any firsthand knowledge of what the groups said at the school, since none is cited in the FCDF press release announcing the email fishing expedition.
What FCDF (and WND) are effectivley arguing is the lie that letting Musilm groups explain to students that Muslims are not the evil peopleright-wingers portray them as is the same thing as trying to convert students. We doubt the FCDF would similarly claim that a Christian group going to a school to counter anti-Christian discrimination had the goal of converting students.
It's this sort of fake news promotion, lazy press-release journalism and baseless anti-Muslim fearmongering that shows WND is not serious about fixing the editorial problems that are leading it to its grave.
Posted by Terry K. at 2:00 AM EDT