The MRC's Thomas the Tank Engine Freakout
Topic: Media Research Center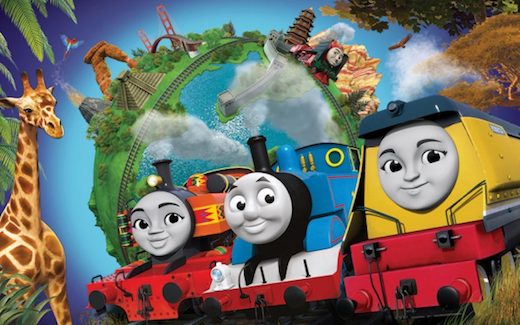 A beloved children's TV show decided it wanted to expand its audience, and the Media Research Center was not having it. From a Sept. 5 post by Melissa Mullins, who argued that "whining SJW's" somehow bullied the franchise into it:
The beloved British children's television show Thomas The Tank Engine has jumped on the PC culture bandwagon by incorporating more gender-balanced characters with a multi-cultural flavor.

After being accused by whining SJW's of sexism, classism and racism for years, the show is hoping a "major strategic brand refresh" with the addition of three new female characters as well as the introduction of 14 new friends from countries such as Brazil, China, India and Mexico. They hope this will help give the show a more updated and "inclusive" look and feel.

[...]

But remember, you can't please everyone. Some are worried of the cultural stereotyping the show portrays, such as a "feisty, strong and agile" train from Brazil named Raul, or a "proud" Mexican train named Carlos who always smiles and sports bushy eyebrows that seem inspired by Frida Kahlo.

Others take a more traditional stance on the revamped show, arguing its original identity will be lost; say goodbye to the sleepy and scenic town of Sodor and the much loved Thomas music tune, and say hello to a more "energized" theme song, international travel and trains of various cultural backgrounds.

[...]

Actually, if you put all that aside and look a little further, you will find that toy manufacturer Mattel is behind the big brand refresh. The toy giant purchased the Thomas & Friends production company in 2012 and already brings in over $500 million in revenue per year, the most of any toy range, but they want to expand their Thomas empire and make it more appealing to the rest of the world. Not that the current success of the show or sales are worth any measure of success (note sarcasm), making it seem the brand refresh is more about the bottom line than inclusivity and equality.
As much of a freakout as this is, it comes off as relatively reasonable compared with the take offered by Dana Loesch of the National Rifle Association's news division, who for some reason felt the need to superimpose Ku Klux Klan hoods on the engines to protest the idea of the franchise trying to appeal to more people.
Posted by Terry K. at 1:04 AM EDT