CNS' Really Dumb Football Attendance Comparison
Topic: CNSNews.com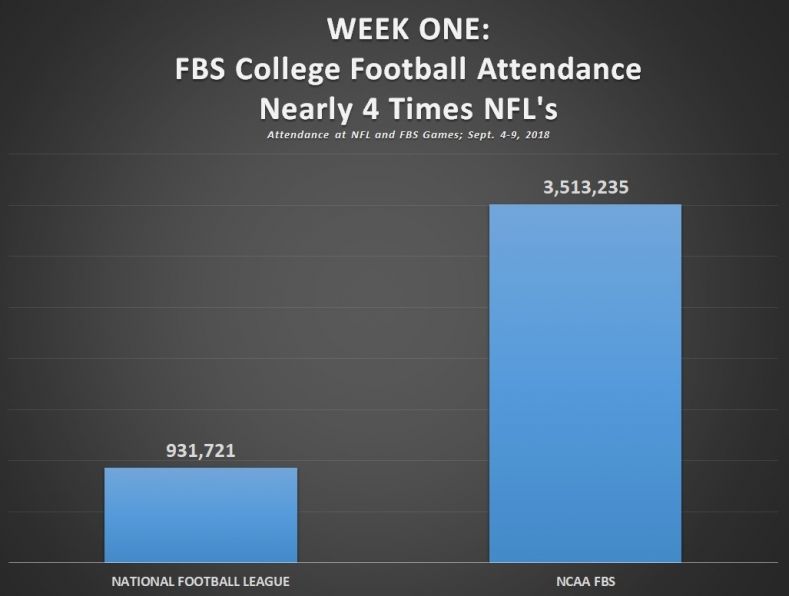 CNSNews.com blogger Craig Millward wrote in a Sept. 10 post:
The number of fans who attended games featuring NCAA Football Bowl Subdivision (FBS) teams this weekend was nearly 4 times the number attending NFL games.

The total number of attending FBS college games, according to attendance numbers published by ESPN, was 3,513,235. The total number attending NFL games was 931,721.

That means there were 3.77 times as many fans--in the stands--personally watching FBS college games this weekend than there were fans in the stands watching NFL games.

FBS college football teams played 78 games this past weekend while NFL teams played 14--with two NFL games remaining to be played on Monday night (the New York Jets vs. the Detroit Lions and the Los Angeles Rams vs. the Oakland Raiders).

Overall, there are 130 NCAA FBS teams, while there are only 32 NFL teams.
Note that Millward's post discredits itself as he goes along, as the absurdity of comparing the raw attendance numbers of a small group of NFL teams and a much larger group of college football teams makes itself manifest.
Of course more people attend college football bames than NFL games -- there are more teams. Millward also avoids doing the logical statistical thing and offering an average attendance figure, since it would prove him even more wrong. For the record:
931,721 divided by 14 NFL games = average attendance of 66,651 per NFL game.
3,513,235 divided by 78 FBS games = averange attendance of 45,041 per FBS game.at
In other words, NFL teams are attracting more fans per game than FBS teams are -- blowing an even larger hole in the point Millward is trying to make about the NFL's purportedly declining popularity.
These numbers also fail to take into account the facts that NFL teams are largely confined to large cities while college football teams are in many more areas of the country, or that some people who attended a college football game may have also attended an NFL game.
We can call Millward's post dumb even by CNS standards.
Posted by Terry K. at 5:14 PM EDT