CNS Runs Clickbait Ads From Right-Wing Fake News Operation
Topic: CNSNews.com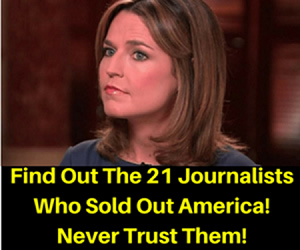 For the past few months, CNSNews.com has been running promotions from a website called TellMeNow. One ad bears the headline "Find Out The 21 Journlalists Who Sold Out America! Never Trust Them!"
The headline on the article itself is slightly less inflammatory: "These 21 Journalists Sold Out Their Profession and America for Hillary Clinton." The first slide rehashes right-wing attacks on ABC's George Stephanopoulos for having worked inthe Clinton adminstration. The second attacks Politico's Glenn Thrush for "asking the Hillary Clinton campaign to fact check his pieces" (by contrast, Newsmax's John Gizzi asked Trump White House officials to fact-check his articles without any blowback whatsoever from TellMeNow).
But strangely, most of the rest of the 21 slides don't even identify what purported offense they committed to get on the list; they're mostly just screenshots of mostly TV personalities and short bios. Some include teasers to the next slide accusing the journalist of never-identified violations. For instance, the slilde before the one for ABC's David Muir states: "Our next slide was voted one of the sexiest men alive in 2014, but his good looks won't be able to allow him to swindle out of his betrayal to the American public! What makes him even more dangerous is that he had the most airtime in 2012 and 2013!" But the slide for Muir states ashort bio and that "Muir's reporting received the most airtime in 2012 and 2013" -- not exactly evidence of "betrayal to the American public!"
In other words, it's just lame right-wing clickbait from a website that's becoming known for fake news. And like any lame clickbait, the slideshow has no byline, and the website itself has no masthead of who works there. Other articles have presumably fake bylines like "James Conrad" (the guy from the "Kong" movie?) and "Erin Perri."According to the WHOIS database, the owners of the website's domain have been blocked from public access, though it notes that the "Registrant Organization" is a company called Intermarkets, which sells advertising space on mostly conservativef websites such as TellMeNow, the Drudge Report ... and CNS and other Media Research Center websites.
A promotion page on the Intermarkets website for TellMeNow gushes that "TellMeNow leverages proprietary software and a unique perspective to take trending content viral. This is THE destination for the hottest stories and videos on the Web!" Funny, no mention whatsoever of clickbait or the anonymous nature of the operation.
The address provided on the website as a contact is a co-working office in Reston, Va. -- the same Washington, D.C., suburb that, as it so happens, is also where CNS, the MRC and Intermarkets are located.
We tried contacting TellMeNow via email to find out its criteria for putting journalists on the list and why its HQ is in a group office, but we got no reply.
Posted by Terry K. at 2:23 PM EDT