Has Farah Considered That Nobody Wants To Read WND's Shoddy Content?
Topic: WorldNetDaily
After we highlighted WorldNetDaily editor Joseph Farah's complaint (well, conspiracy theory) that Google includes WND in so few search results that it's hurting WND's revenue (and that it's doing so to punish WND for bashing Google), we heard from blogger Richard Bartholomew, who pointed out one reason for the dearth of traffic to Google -- which is not Google's fault.
Bartholomew showed a screenshot of a Google search regarding the 2017 death of former Haitian government official Klaus Eberwein, in which a WND article was listed among the "top stories":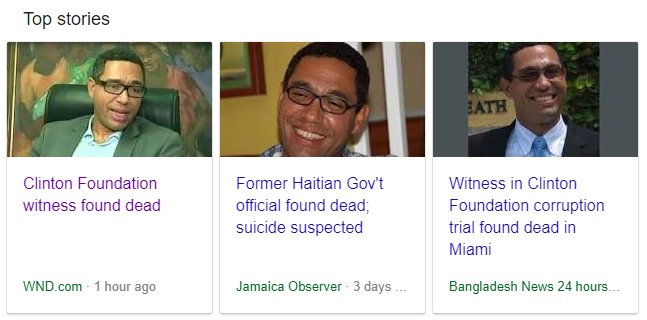 As we
reported
at the time, WND's reporting on Eberwein's death is what we would call fake news. WND
hyped claims
that Eberwein "was expected to testify against alleged Clinton Foundation corruption and malpractice" and that he "reportedly told acquaintances he feared for his life for his fierce criticism of the Clinton Foundation." In fact, Eberwein was set to testify in a case unrelated to the Clinton Foundation, and there's no independently sourced on-the-record evidence to back up anything he purportedly said about the Clintons.
So, rather than Farah's conspiracy theory, it appears the real problem is that WND reports stories that are either fake news or that nobody cares enough about to search in any significant quantity on Google.
Which all goes back to the thing we've been pointing out all along, and which Farah and WND have aggressively refused to discuss: that WND's perpetually imminent demise is being caused not by a grand conspiracy against it by the "Digital Cartel" but by bad, biased, fake news-heavy content that fewer people want to read.
Posted by Terry K. at 12:17 AM EDT