MRC Mocks Another Reporter For Being Concerned About Her Safety (Again)
Topic: Media Research Center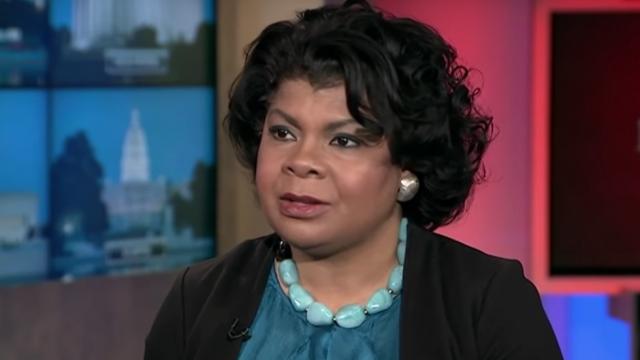 The last time the Media Research Center mocked reporter April Ryan for being concerned about her safety at a time when President Trump has declared the media to be the "enemy of the people," we pointed out that Ryan felt sufficiently threatened to need bodyguards.
The MRC's Kristine Marsh address the issue of Ryan's bodyguard in a sneering Aug. 24 post -- only to argue that she ought to feel threatened:
In a laughably obtuse interview with The Hollywood Reporter published August 21, April Ryan, the White House correspondent for American Urban Radio and CNN contributor, griped about needing to pay for security because of how often she is approached or heckled in public. This comes just a few weeks after Ryan complained that White House Press Secretary Sarah Sanders shouldn't need security guards.

According to the media outlet, Ryan said she feared for her personal safety at times because she is approached in public and complained that the White House should fund her bodyguards:

[...]

She added:

There is a concern now. I mean, I've had death threats, I've had craziness, so I have a real concern. An honest, real concern.... Do I have a bodyguard? Yes, I do. Am I paying for it? Yes, I am. And, I think [Sanders] should have to pay for it, especially if she's stirring it up with her boss [Trump].... I did not sign up for this. I was just doing a job.

Sound familiar? Isn't this exactly what Democrat Rep. Maxine Waters explicitly ordered liberals to do to Republicans? The media didn't care about public harassment then, as long as it wasn't happening to them. In fact, many journalists went on television and defended the abuse of Trump Administration officials and Republican party members. But suddenly it's a different story when the shoe is on the other foot.
So Ryan should feel threatened because some people in the White House feel threatened? Tallk about utter hatred for -- and the desire for vengeance against -- journalists doing their jobs.
The MRC's callousness toward the safety of journalists continues to be appalling.
Posted by Terry K. at 8:30 PM EDT