MRC Makes Excuses for Trump -- Then Denies That's What It's Doing
Topic: Media Research Center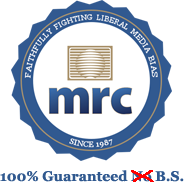 Peter Sifre began a July 18 Media Research Center post by a surprising admission by a pro-Trump organization: "Let's face it: Trump had a rough press conference in Helsinki on Monday." Sifre then immediately kicked into spin mode, insisting that "this does not excuse hyperbolic responses on the part of the media" and touting how "On Monday's edition of Hannity, radio star Mark Levin appeared to offer some historical context."
Sifre should have mentioned the MRC's cross-promotional business relationship with Levin somewhere in his post by way of disclosing a relevant conflict of interest, but he didn't.
After noting allegations that Trump, among other things, committed treason in the Putin presser in Helsinki -- which presumably come from individual commentators, which Levin and Sifre are falsely conflating as being made by the entire "liberal media" -- Sfire touted how Levin "then proceeded to give a history lesson of past foreign policy blunders with the Soviet Union" and "later criticized the Obama Administration for its action, or lack thereof regarding Russian aggression and expansion."
As long as we're going to take the whataboutism route, it's worth noting the times that the MRC's "news" division, CNSNews.com, provided a willing platform for hyperbolic "treason" attacks on President Obama and others during the Obama years:
Hyperbolic claims of treason are not limited to the Obama years, though: A February article by Chapman highlighted how a partisan memo by Republican Rep. Devin Nunes on the FBI's use of FISA warrants "showed 'clear and convincing evidence of treason' and that he is sending a letter to Attorney General Jeff Sessions seeking 'prosecution' against the FBI's James Comey and Andrew McCabe and the DOJ's Sally Yates and Rod Rosenstein."
At the end of all this, Sifre declares: "None of this is a reason to make excuses for Trump's blunders during the press conference in Helsinki. However, Levin correctly pointed out the media's double standard when it comes to insufficient response to Russian encroachment when a Democrat is in power."
In fact, whataboutism is very much a form of excuse-making. If Trump hadn't screwed up so badly in Helsinki, there would be no need for Levin to come to Fox News to spin things -- and for Sifre to write it up with such detail. The MRC is pro-Trump state media, after all, and it must do such things on behalf of its leader.
Posted by Terry K. at 1:42 PM EDT