WND Becomes Putin's Stenographer, Pushes His Bogus Anti-Hillary Claim
Topic: WorldNetDaily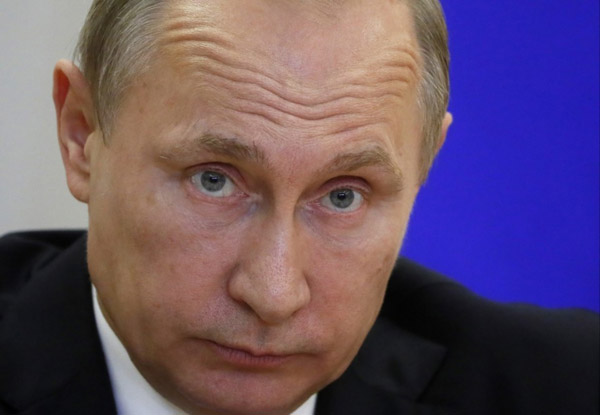 We've noted how CNSNews.com uncritically promoted Russian President Vladimir Putin's assertion that a critic of his, Bill Browder, donated $400 million to Hillary Clinton's 2016 presidential campaign while not bothering to mention the fact that it's false.
An anonymous WorldNetDaily writer did the same thing in a July 16 article:
A quip by Russian President Vladimir Putin during his conference in Helsinki with President Donald Trump that 'business associates" sent $400 million to Hillary Clinton's campaign has sparked a long list of questions.

Tyler Durden at ZeroHedge discussed the comment.

"Vladimir Putin made a bombshell claim during Monday's joint press conference with President Trump in Helsinki, Finland, when the Russian president said some $400 million in illegally earned profits was funneled to the Clinton campaign by associates of American-born British financier Bill Browder – at one time the largest foreign portfolio investor in Russia. The scheme involved members of the U.S. intelligence community, said Putin, who he said 'accompanied and guided these transactions.'"
ZeroHedge is a fringe blog prone to publishing fake news -- which WND should know, having published fake news from ZeroHedge a couple years back. Also, "Tyder Durden" is not a real person; it's a pseudonym for a group of writers that post at the website. That tells you how far WND has fallen -- it has to outsource its fake news.
Needless to say, WND has not updated its story to point out the $400 million claim is false -- heck, even Putin himself has walked it back, now saying it was just $400,000 (which appears to also be false). Instead , WND rehashes ZeroHedge's attack on Browder, which claims that Browder "allegedly was behind the 2012 Magnitsky Act" but skips the part about how he died in a Russian prison after allegedly uncovering tax fraud committed by the Russian government against Browder's businesses. (The fake-name ZeroHedge piece blames Browder and Magnitsky for the alleged fraud, citing ... the Russian government.)
By serving as Putln's stenographer, WND is, in effect, promoting Russian propaganda. That's not how one regains the credibility to remain a viable "news" operation.
Posted by Terry K. at 5:09 PM EDT