Priorities: CNS Gives More Space To Trump Lowering Flags For Newspaper Shooting Than To Shooting Itself
Topic: CNSNews.com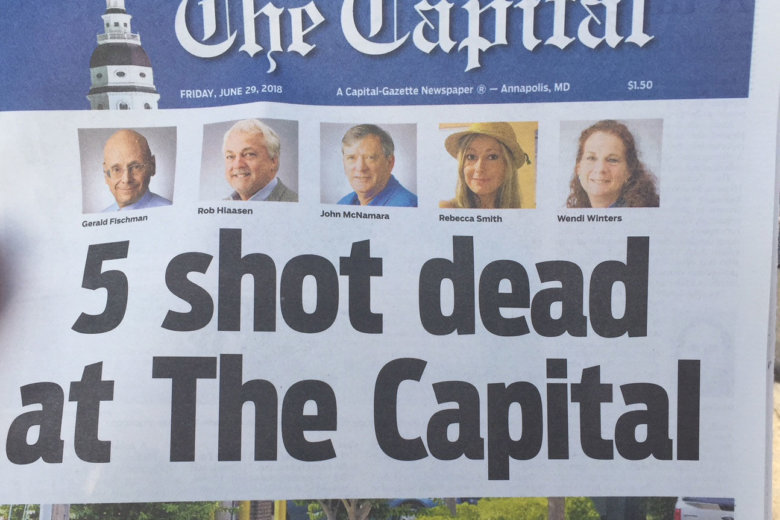 On June 28, CNSNews.com's Melanie Arter wrote a bare-bones article about the shooting at a newspaper in Maryland. Here it is in its entirety:
A suspect is in custody after a workplace shooting Thursday at the Capital Gazette newspaper in Annapolis, Md.

Multiple fatalities have been confirmed by Anne Arundel County Sheriff Ron Bateman.

Police are saying there may be more shooters as well as bombs.

The Capital Gazette is owned by the Baltimore Sun.
At most news operations, this sort of sketchy early story would ultimately be fleshed out with more details as they became available. For whatever reason, Arter's article never was updated.
By contrast, Arter's July 3 article on President Trump announcing he will order flags to be lowered to half-staff (the headline incorrectly states "half-mast") as a way of "honoring the five journalists killed last week during a shooting a the Capital Gazette newspaper in Annapolis, Md." received nine fully fleshed-out paragraphs, three of which directly quoted from Trump's proclamation.
While Arter noted that the Capital Gazette had reported that Trump would not at first consent to lowering the flags, she didn't mention Trump's contentious history with the media -- i.e. calling them the "enemy of the people" -- that might make such a gesture feel a bit hollow.
Just goes to show how much of a priority Trump-fluffing is at CNS over actual news.
Posted by Terry K. at 1:20 PM EDT