CNS Buries Rosenstein's Defense Of Himself Against GOP Attacks
Topic: CNSNews.com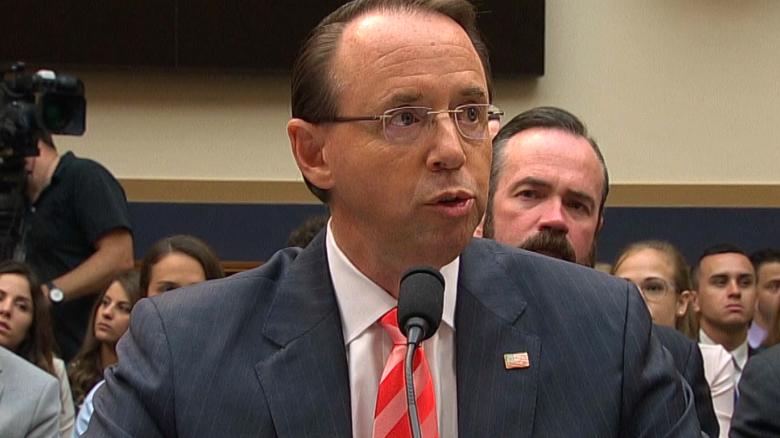 If you had read most of the media regarding last week's appearance by deputy attorney general Rod Rosenstein before the House Judiciary Committee, you would have read that Rosenstein acquitted himself nicely against relentless Republican attacks on his work and reputation, in particular accusastions by GOP Rep. Jim Jordan.
If you had read CNSNews.com, you read something else entirely -- a highly cherry-picked selection of testimony designed to make Rosenstein look bad and his GOP inquisitors look important:
Susan Jones makes Rosenstein look like a weaselin an article featuring Rosenstein noting that, under questioning from GOP Rep. Ron DeSantis, that he is "not permitted to discuss any classified information."
Jones went the weasel route again in an article highlighting his comment, under questioning from GOP Rep. Matt Gaetz, that "since he wasn't working for the Justice Department on July 31, 2016 when the FBI launched its Trump-Russia investigation, he only knows what he's been told by the FBI."
An article by Melanie Arter touted how "Rep. Trey Gowdy (R-S.C.) gave a five-minute speech, but didn't ask a single question when it was his turn to question Deputy Attorney General Rod Rosenstein."
None of these articles feature any questioning from Democratic members of the committee, nor do the mention the back-and-forth between Rosenstein and Jordan.
CNS waited until the next day to note the Rosenstein-Jordan back-and-forth. And while most other outlets noted how out of control Jordan got -- he referenced conspiracy theories he had seen on Fox News and accused Rosenstein of trying to subpoena phone calls, with Rosenstein retorting that Jordan was trying to "attack me personally" -- Arter chose to present the exchange as drily as possible in transcript form without highlighting any of the above or anything else that made Jordan look bad.
Arter also refused to include any questioning from Democrats in her article, though she made sure to complain that the Rosenstein-Jordan exchange "was repeatedly interrupted by Democrats on the committee."
CNS appears to have once again forgotten its mission statement to "fairly present all legitimate sides of a story," since Jones and Arter made no attempt whatsoever to fairly present Rosenstein's side of the story -- strange, since both are longtime CNS employees. It's as if that mission statement is window dressing designed to falsely portray CNS as a legitimate news operation instead of the highly biased pro-Trump PR shop it has become.
Posted by Terry K. at 12:41 AM EDT