MRC's Graham Goes On Heathering Rant Against George Will
Topic: Media Research Center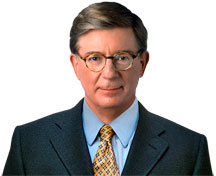 A column sharply critical of Vice President Mike Pence -- for overall toadyism and, in particular, sucking up to the likes of Joe Arpaio -- was all that it took for the Media Research Center's Tim Graham to go on a Heathering rant against Washington Post columnist George Will.
At no point in his May 10 post does Graham dispute anything Will wrote about Graham -- he's upset it was written at all, and he's even moremad that CNN's Jake Tapper featured it. Let the rant begin:
Tapper put a different quote on screen in the 4 pm hour, including the headline "Trump Is No Longer the Worst Person in Government" and the line "Mike Pence, with his talent for toadyism and appetite for obsequiousness, could, Trump knew, become America's most repulsive public figure."

Tapper at least noted that flattering presidents is what vice presidents do. So why didn't CNN explore whether George Will wrote a column like this about oh, Vice President Biden? Here's what they would find: "conservative" Will has never written a critical column about Biden over the last ten years. In fact, he's never written about Biden at all in that period.

This raises a different question, as Tapper protested he wouldn't read this column if Will wasn't a "conservative." Has anti-"lickspittle" George Will ever written a column criticizing his bosses at The Washington Post? Or any of his TV-network paymasters over the years? Good luck finding one.
As far as not criticizing TV paymasters goes, Graham might want to check with his boss, Brent Bozell, who set the pace for that by oozing upon the death of Roger Ailes -- longtime operator of the MRC's preferred media outlet, Fox News -- that "The good Roger did for America is immeasurable" and staying silent about the fact that Ailes lost his job for serial sexual harassment, which we would argue was not good for America.
Posted by Terry K. at 8:37 PM EDT
Updated: Sunday, June 3, 2018 8:45 PM EDT