Bash-Public-Schools Week at CNS
Topic: CNSNews.com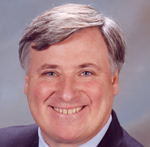 CNSNews.com had a spasm of public school-bashing at the start of the month.
A chart-filled May 1 article by editor in chief Terry Jeffrey played up a claim that "Sixty-five percent of the eighth graders in American public schools in 2017 were not proficient in reading and 67 percent were not proficient in mathematics." That was followed a few hours later by an article by managing editor Michael W. Chapman touting how "A fifth-grade teacher who has worked in the San Diego Unified School District for 21 years was recently charged with distribution of child pornography, including videos involving a toodler girl with an adult male and another video involving a seven-year-old girl engaged in rough sex with an adult male."
The next day, Jeffrey wrote a column bashing public schools -- and touting Catholic schools -- further based on those numbers: First: Public schools are doing a bad job teaching their students these two basic subjects. Second: Catholic schools are doing a better job."
Jeffrey then complains that public schools don't incocxtrinate their students in "Catholic values," then demands that parents be given school vouchers:
Then there is the second contest in which the Catholic schools beat the public schools: Teaching values.

Public schools generally teach secular left-wing values — that, in some instances, cannot be reconciled with the laws of nature and nature's God, whom the Founders invoked when they created this republic.

Catholic schools teach Catholic values, which are wholly consistent with the natural law, which must ultimately form the foundation of every American law.

[...]

But many parents who sent their children to public schools also got a bad deal — because their child got a bad education.

States should take every penny they now spend on the public schools and give it to parents in the form of a voucher that carries just one requirement: Educate your child where you see fit.
Jeffrey doesn't explain how destroying public schools helps anyone other than right-wing ideologues like himself.
Posted by Terry K. at 6:02 PM EDT