CNS Managing Editor Retweeted Fake News
Topic: CNSNews.com
It's never a good look when a leader of an organization that claims to offer "news" is caught promoting fake news.
But that's what CNS managing editor Michael W. Chapman has done. After the Parkland massacre, far-right website Squawker published a story claiming that survivor David Hogg is "a confirmed puppet for the Podesta funded Center For Amerian Progress," a post that repeated other false claims about Hogg. Chapman retweeted that story on his personal Twitter account: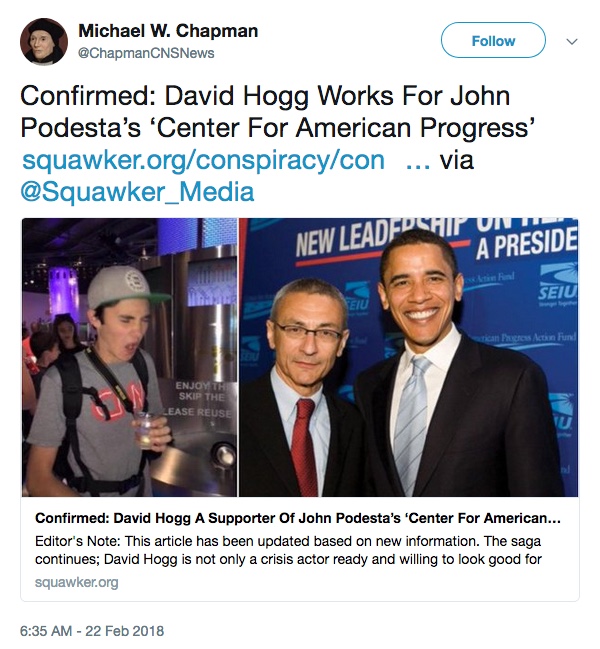 The post's author, Alisha Sherron,is very much an alt-right activist. A link to Sherron's Twitter account from the Squawker "about" page shows it's suspended, and an account with Sherron's name at the alt-right chat site Gab describes her this way: "Columnist for Squawker. Proud American. It's okay to be white."
Chapman sure picked a winner here, didn't he?
Squawker has since edited its story to remove most other false claims, but it's still bizarrely standing by the bogus claim that Hogg works for CAP. Chapman's tweet remains live at this writing.
If a top CNS editor is promoting fake news, why should anyone trust the "news" his website publishes?
(h/t Media Matters)
Posted by Terry K. at 3:46 PM EDT