WND Forgets It Used To Promote Paul Ryan's GOP Opponent
Topic: WorldNetDaily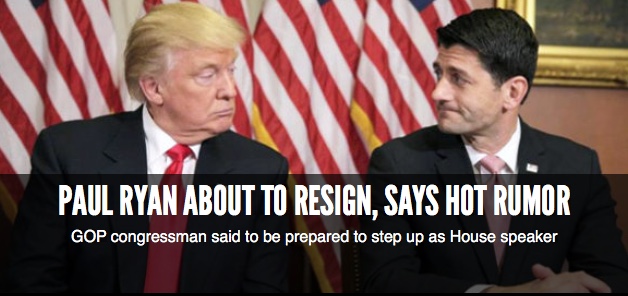 WorldNetDaily really wants to get rid of Paul Ryan.
A March 26 WND article touted a "hot rumor" -- unsubstantiated, of course -- taht Ryan "could resign his position as speaker of the U.S. House by the end of May," adding that "Rep. Ryan still hasn't revealed whether he intends to seek re-election this year. And rumors of a resignation have been swirling for many months."
Then, an April 2 article by Chelsea Schilling tried to ratchet uiip the pressure:
Could this be the end of the road for House Speaker Paul Ryan, R-Wisc.?

While recent rumors on Capitol Hill suggest Ryan is seriously considering resigning his post, the top Democrat seeking his seat is seriously raking in the dough.

In fact, Wisconsin Democrat challenger Randy Bryce is pulling in more cash than any challenger to Ryan in the last two decades.

Bryce's campaign says it raised $2.1 million at the end of the last fundraising quarter. That makes $4.75 million in total donations. Bryce also has $2.3 million in cash on hand.
Schilling went on to repeat the earlier article's claim that "rumors of a Ryan resignation have been spreading for many months."
Unmentioned in both articles, however, is the Republican primary opponent for Ryan that WND promoted for several months last year. Yes, that would be Paul Nehlen, whose book WND also published last year.
As Nehlen turned more explicitly anti-Semitic and white nationalist, WND stopped promoting him, and it eventually pulled Nehlen's book from its online store and scrubbed it from the WND Books website. But even as Nehlen has so radioactive that even white nationalists are turning on him, WND still has not made a public statement about the state of its relationship with Nehlen.
Meanwhile, Amazon is still selling new copies of Nehlen's book, which tells us that WND apparently has not formally withdrawn it from the market.
That's a notable conflict of interest WND didn't disclose, though it's one WND keeps trying to flush down the memory hole.
Posted by Terry K. at 4:15 PM EDT