CNS Unemployment Coverage Distortion Watch
Topic: CNSNews.com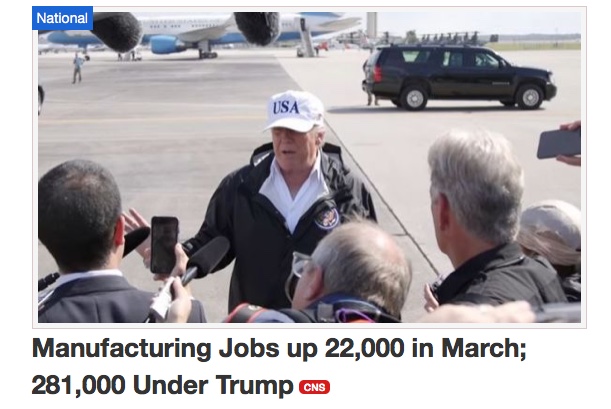 March's job news wasn't all that positive -- only 103,000 jobs created -- so CNSNews.com went into cherry-picking mode to push numbers that reflect better on President Trump.
Susan Jones' main story was headlined not with the overall numbers -- that didn't get mentioned until the 11th paragraph but that a "record number of women" were employed. She couldn't quite spin it away in the article proper, conceding the total number of Americans employed dropped.
Jones also conceded something else: that CNS' obsession with the labor force participation rate under President Obama hasn't paid off under Trump, admitting that "The labor force participation rate has been stuck at or near the 62.7-63.0 percent level for the past four years."
So, CNS had to turn to Trump-fluffing sidebars to stay in rah-rah mode. Editor in chief Terry Jeffrey contributed his usual piece on manufacturing jobs, cheering that "employment in the manufacturing sector has now increased by 281,000 since December 2016, the last month before President Donald Trump took office." Jeffrey also misled by writing, "In January 2009, the month Obama was inaugurated, manufacturing jobs dropped to 12,561,000. The number of manufacturing jobs in the United States did not exceed that number until February of this year, when it hit 12,610,000." It seems Jeffrey once again forgot that there was a major recession during the Obama administration that caused manufacturing jobs to fall far below that number, and that manufacturing jobs have been on an upward trajectory since 2011.
Jeffrey also penned another fluff piece highlighting that the number of federal government jobs has dropped by 21,000 under Trump.
Posted by Terry K. at 12:44 AM EDT