MRC Falsely Denies That NRA Exploited Rapper
Topic: Media Research Center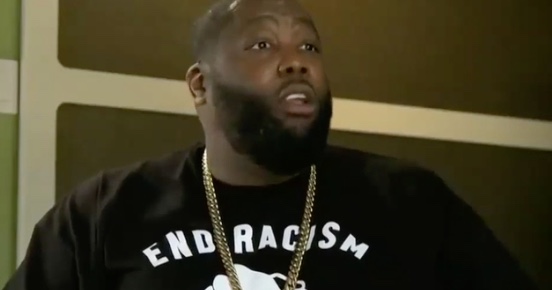 The Media Research Center's Brad Wilmouth writes in a March 25 post:
On Sunday's AM Joy, host Joy Reid and her panel were again hating on the NRA, this time smearing the pro-gun group with a conspiracy theory that it recently had black rapper Killer Mike -- who notably supported Bernie Sanders for President -- as a guest for the purpose of scaring members to become afraid of blacks and therefore to buy more guns.

Frequent guest Michelle Bernard -- who has been an MSNBC contributor and a columnist for Roll Call -- pushed the theory, inspiring agreement from Reid.

Nearing the end of the show shortly before 12:00 p.m. Eastern, Reid played a clip of Killer Mike on NRA TV. Reid then came on and chided the rapper for associating himself with the NRA, and also repeated the myth that the NRA did not react to the shooting death of black motorist and concealed carry holder Philando Castille after he was pulled over by a Minneapolis police officer.
Just one thing blowing a hole in Wilmouth's post: Killer Mike himself agrees that the NRA exploited him. From a actual news outlet:
In a roughly seven-minute video, Killer Mike spoke with NRATV host Colion Noir about black gun ownership and what it means to be an "ally" to African Americans. He suggested at one point that he wouldn't let his children participate in last week's school walkout protests because his family owned guns. Killer Mike said: "I told my kids on the school walkout, 'I love you — if you walk out the school, walk out my house.' That simple. We are a gun-owning family."

On Saturday, as the march was getting underway, NRATV promoted the segment on its social media accounts, introducing Killer Mike as someone who "knows how guns can solve the problems society faces."

Now, after a wave of criticism on social media, the rapper is apologizing for the clip, saying he had no idea it would be used to attack the marchers.

"I did an interview about black gun ownership in this era. That interview was used a week later by NRATV to disparage a very noble campaign that I actually support," the rapper, whose real name is Michael Render, said in videos posted to Twitter on Sunday night.

He said the segment shouldn't have been presented "in contrast" to the demonstration, which was organized by students around the country, including survivors of the recent mass shooting at Marjory Stoneman Douglas High School in Parkland, Fla.

"I'm sorry, guys. I'm sorry that an interview I did about a minority, black people in this country, and gun rights, was used as a weapon against you guys," continued Killer Mike, who is half of the rap duo Run the Jewels. "To the young people that worked tirelessly to organize, I'm sorry adults chose to do this, I'm sorry NRATV did that, I'm sorry that adults on the left and the right are choosing to use me as a lightning rod."

In a series of tweets responding to critics, he also sought to clarify his remarks about not letting his kids participate in the walkout. It was a joke, he said — he wouldn't let his son go because he was failing math class.
Needless to say, Wilmouth hasn't updated his post to reflect the facts and that what he claimed was a "conspiracy theory" was given credibility by the interviewee himself.
Posted by Terry K. at 8:45 PM EDT