CNS Unemployment Coverage Distortion Watch
Topic: CNSNews.com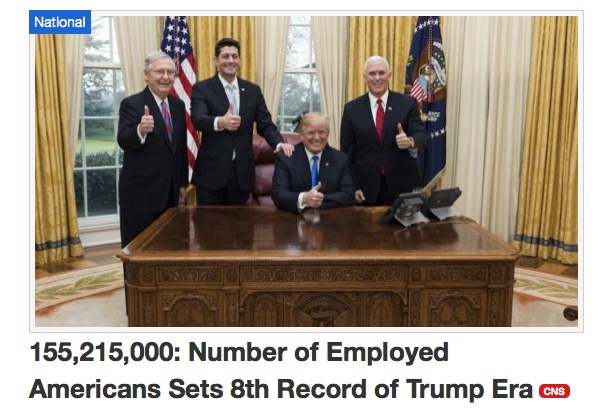 Since February's unemployment numbers were better than the previous month, CNSNews.com didn't have to severely spin things as it did for January. Instead, it was full pro-Trump rah-rah mode. The chief cheerleader, as always, was Susan Jones:
The number of employed Americans has now broken eight records, most recently in February, since President Donald Trump took office.

155,215,000 Americans were employed in February, 785,000 more than last month's record 154,430,000, the Bureau of Labor Statistics reported on Friday.

The number of employed Black Americans hit a record high of 19,087,000 last month, and a record 72,530,000 women 16 and older were counted as employed.

The labor force participation rate increased three-tenths of a point, and the nation's unemployment rate remained at a low 4.1 percent for a fifth straight month.

To put the unemployment rate in perspective, the last time we saw rates this low, Bill Clinton was president. In the final four months of 2000 -- Clinton's final full year in office -- the unemployment rate was 3.9 percent, and it dipped to a Clinton-era low of 3.8 percent for one month only, in April 2000.
The sidebar on black unemployment by managing editor Michael W. Chapman saw better numbers this time as well, to the point where he proudly harrumphed: "It is a historical fact that the unemployment rate for black workers in America has been the lowest in nearly 50 years, and this occurred under the Trump Administration."
Even editor in chief Terry Jeffrey went the pro-Trump stenography route for his sidebar, declaring that "The United States added 31,000 manufacturing jobs in February and employment in the manufacturing sector has now increased by 263,000 since December 2016, the last month before President Donald Trump took office." He went on to assert:
The last time there were more manufacturing jobs in the United States than there were in February was in December 2008, the last month before President Barack Obama took office. That month, according to BLS, there were 12,850,000 manufacturing jobs. But, in January 2009, the month Obama was inaugurated, manufacturing jobs dropped to 12,561,000—and did not move back above 12,600,000 until last month.
Jeffrey didn't mention that the U.S. was suffering a major recession at the time of Obama's inauguration. Gee, wonder why...
Posted by Terry K. at 1:52 AM EDT