Does WND Want ISIS To Destroy This Restored Ancient Site Too?
Topic: WorldNetDaily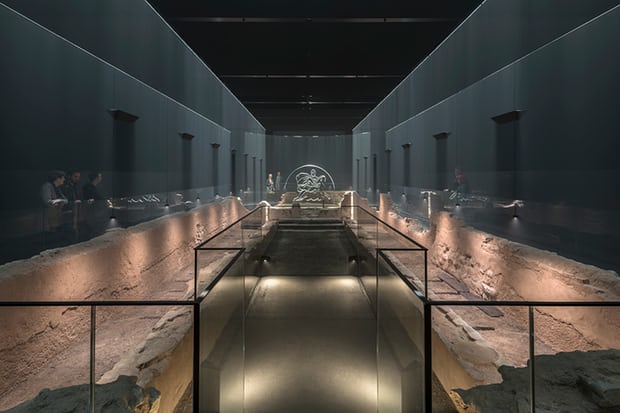 WorldNetDaily's ongoing freakout about the restoration of ancient history continues unabated. Bob Unruh writes in a Jan. 21 WND article:
First Baal was "resurrected" from the pages of history books.

Then came Athena, via a United Nations program.

And even a statue of the Lion of al-Lat, a "pre-Islamic goddess."

Now the ancient cult of Mithras is being represented. In fact, there are some 600 people a day visiting a restored temple underneath the London headquarters of the business news outlet Bloomberg.

CNN describes the scene at the site of the restored ancient Roman temple to "a mysterious god called Mithras."

"The temple slowly comes to life as torch light flickers and a recording of a low chanting fills the room," CNN reports. "Channels of light and haze extend from the rocky ruins, recreating shadowy columns to give the impression of the temple's superstructure. A light display in the recess of the temple depicts the cult statue of Mithras slaying a bull, an image that was the central icon of the cult."

Sophie Jackson of the Museum of London Archaeology explains Mithras was a "mystery cult" that apparently had members keep its secrets.

"So we really don't know a lot about what went on in the Mithraeum [temple], apart from the archaeological artifacts," she told CNN.
Unlike the others WND has freaked out about, this isn't an attempt to reconstruct something that ISIS destroyed; as Unruh goes on to note, the ruins of the temple were first uncoverered in 1954 and moved; what's happening now is the relocation of the ruins to the original site -- which actually happened in November, meaning Unruh is a good two months late in reporting this.
Unruh spends the rest of the article prattling on about how terrible it is that shrines to pagan gods are being preserved, using material copied-and-pasted from earlier freakouts.That's a willful ignorance of the reason why it's being done. Nobody engaged in these reconstructions are trying to bring back worship of ancient gods, and nobody at WND has ever proven otherwise; they are historians trying to preserve history.
Just as WND has apparently approved of ISIS' destruction of the earlier antiquities that have been restored or reconstructed, Unruh seems to be implicitly arguing that ISIS -- or some other band of violent radical extremists -- do the same to the ruins of the Temple of Mithras.
(Photo: The Guardian)
Posted by Terry K. at 3:48 PM EST