When The MRC Wasn't So Bothered By Nazi Comparisons
Topic: Media Research Center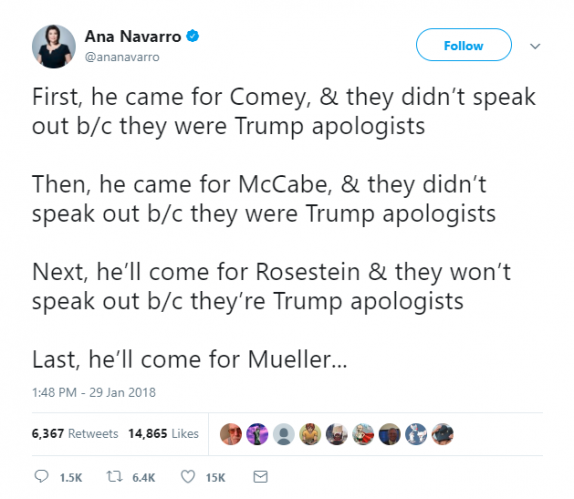 The Media Research Center's Curtis Houck cranks up the hyperbole in a Jan. 29 post:
On Monday afternoon, CNN political commentator and liberal Republican Ana Navarro ghoulishly paraphrased a quote by World War II-era pastor Martin Niemöller to equate embattled current and former Justice Department officials to those murdered by Adolf Hitler and the Nazis (aka President Trump) during the Holocaust.

Navarro's referenced President Trump as "he" in her mock poem with James Comey, Andrew McCabe, Rod Rosenstein, and Robert Mueller making appearances in each stanza of the following tweet:

[...]

This demonic comparison between law enforcement officials to people murdered during World War II and Trump to Nazis is beyond the pale. Just imagine the reaction if a Fox News contributor did such a thing during the Obama years[.]
Well, we don't have to imagine it. A Fox News contributor did do such a thing, and the MRC's reaction to it was -- well, let's just start by saying that nobody used the word "demonic."
In 2011, conservative country singer Hank Williams Jr. appeared on "Fox & Friends" to claim that then-Speaker of the House John Boehner's recent golf game with President Obama was "one of the biggest political mistakes ever," adding, "It's like Hitler playing golf with [Israeli Prime Minister Benjamin] Netanyahu." Obama, of course, is the Hitler in that analogy.
The MRC's first reaction came from Tim Graham, who seemed more offended that Williams' offensive analogy got his theme for ESPMN's "Monday Night Football" taken off the air than by the analogy itself.
Ken Shepherd dismissed William's remarks as nothing more than a "bad joke," then played whataboutism: "Yet to our knowledge, we at NewsBusters are unaware of any similar edict by ESPN to prevent former boxer and convicted rapist Mike Tyson from returning on the network's programming or of any disciplinary action against the radio hosts who allowed Tyson to [Sarah] Palin 'met the wombshifter' when she allegedly had a fling with basketball player Glen Rice." Shepherd made the same "bad joke" claim in a later post in another flurry of whataboutism.
Noel Sheppard whitewashed Williams' statement as merely "intemperate remarks" and a "stupid comment" made by "a country singer with no prior history of inflammatory remarks," while also playing the whataboutism card. A year later, Sheppard proudly touted "another comment about Barack Obama that could get him in some hot water" made by Williams, saying his earlier comment was just a "joke."
And less than a year ago, Jay Maxson cheered the return of Williams Jr.'s theme song to "Monday Night Football" without explaining why it was pulled in the first place. Maxson described Williams as only "a critic of Barack Obama."
It's clear that the amount of invective the MRC is willing to hurl at someone making allegedly unfortunate Nazi references depends entirely on the offender's political affiliation -- and that of the person being likened to a Nazi.
Posted by Terry K. at 12:38 AM EST