Pot, Kettle, Black: WND's Farah Frets Over 'Prima Facie Libelous' Claims (Not Published By WND)
Topic: WorldNetDaily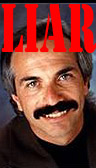 Joseph Farah oozes concern about getting facts straight in his Jan. 29 WorldNetDaily column:
What do you suppose would happen if an author known for making up and embellishing stories, quotes and admitting that he can't say for sure if what he wrote in his latest best-selling attack book on Donald Trump's White House told a comedy show on HBO that U.N. Ambassador Nikki Haley and the president are having an affair?

Would an interview that incendiary and prima facie libelous be aired?

Yes.

Would the media advance the rumor by asking Haley about it?

Yes.

Would the media, after realizing there is no evidence to support the charge, denounce the rumor-mongering author and question all he had previously reported in his book?

No.

And what about Bill Maher and HBO? Do they have any responsibility at all for airing such a defamatory and salacious interview with no evidence to support the accusation?

Yes, but only if Nikki Haley files a very expensive lawsuit. That's essentially her only legal recourse. And the standard in First Amendment juris prudence is extremely high for public figures to get a fair hearing on the facts.
Farah seems to have forgotten that his WND has published numerous incendiary and prima facie libelous claims about the Clintons and Obamas. And that we've caught WND telling lie after lie, not to mention Farah himself telling lie after lie.
For instance: In 2016, WND published a claim by Sally Miller, who claims to be a former mistress of Bill Clinton, that Hillary Clinton "is a lesbian" who wants to kill her. WND offered no verification of the claim, despite the fact that Miller has long been considered to be an unreliable source even in Arkansas. In other words, WND has published a prima facie libelous claim without performing due diligence as to its veracity. Would Farah want Clinton to sue him and WND over this? Or does he feel safe in his knowledge that the "extremely high" bar for public figures to sue over libelous claims he laments for Haley will keep WND out of the courtroom over this and other similar claims against politicians Farah despises?
Another example: WND has repeatedly claimed without evidence that yogurt maker Chobani and its CEO, Hamdi Ulukaya, have a secret agenda to flood America with Muslims that it would employ at its manufacturing plants. It corrected the claim on its website months after the fact, though without public apology, presumably after contact from Chobani's lawyers. Should Chobani have gone ahead and sued WND for its prima facie libelous claim?
And one more example: In 2000, WND libeled Tennessee car dealer Clark Jones by falsely portraying him as a "suspected drug dealer." It stood by the claim for seven years as it fought a defamation suit Jones filed against WND over the claim. Then, just before the case was to go to trial in 2008, WND abruptly reversed course and settled with Jones, the terms of which remain secret to this day. The press release about the settlement laughably claimed that "WorldNetDaily.com and its editors never intended any harm to Clark Jones," which is simply not true -- Jones had a connection to Al Gore, whose presidential candidacy WND was trying to destroy when it made the false claim, so Jones had to be part of the destruction as well. It's noteworthy that WND never apologized to Gore for publishing false claims that it claimed played a role in Gore losing the election.
Of course, the difference between Jones and Gore, Clinton or Obama is that Jones was never a public figure who would have to meet a higher burden of defamation.
Farah might want to be careful what he wishes for. If Wolff, Maher and HBO can be sued over Haley, WND can be sued for all the libelous claims it has published about the Clintons, Gore and Obama. And that would definitely put WND out of business.
Posted by Terry K. at 4:27 PM EST