MRC Is Mad The Media Accurately Quoted Trump's Vulgarity
Topic: Media Research Center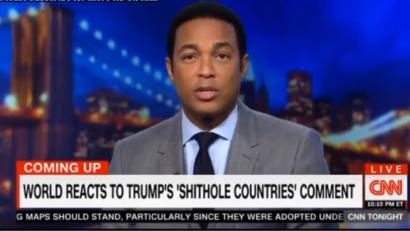 The Media Research Center's Tim Graham huffs in a Jan. 15 post (bolding is his):
In the contest for Most Offended News Network after President Trump reportedly referred to African nations as "s***hole" countries, CNN wins hands down. NewsBusters staff combed through CNN transcripts on Nexis for the S-hole word in the 24 hours of January 12 – the first full day after The Washington Post reported the controversy – and found CNN staffers and CNN guests uncorked the profanity 195 times in one day.

That doesn't count Saturday, Sunday or Monday. They could be headed for 1,000 by now. It also doesn't count the amount of time they put the S-word on screen (sometimes twice, as you can see on Cuomo's temporary prime time show.)

Compare that to Fox News Channel. Their curse count was zero. FNC told staff and guests not to say it.
Missing from Graham's post: any criticism of Trump for saying the vulgar word in the first place, let alone any criticism of him for saying it about certain African countries. If Trump hadn't said it, CNN would not have needed to report it, and Fox News would not have to devise a way to dance around it.
In short, Graham is complaining that CNN reported Trump's word accurately.
In a companion piece at the MRC's "news" division, Craig Bannister touts how Republican Rep. Lamar Smith regurgitated Graham's post on the House floor, additionally complaining that "There was a time when the media would show some respect for family values. But no more." Bannister gives no indication that Smith also criticized Trump for saying the word in the first place or the context in which he said it, so we must assume that he did not.
Posted by Terry K. at 1:16 AM EST