Pro-Trump Newsmax Writers Defend Trump's Sanity
Topic: Newsmax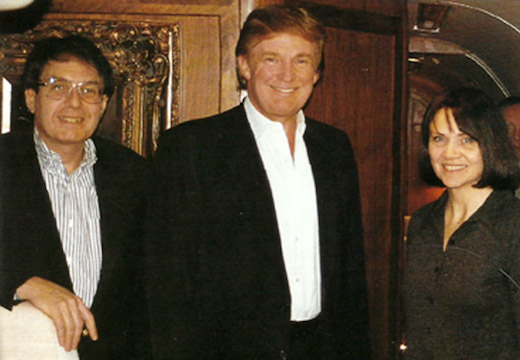 As questions about President Trump's mental fitness began to swell in the wake of Michael Wolff's book, two of his biggest buddies and boosters -- both tied to Newsmax -- knew it was time to come to his defense.
First, Newsmax CEO Christopher Ruddy went on CNN to vouch for Trump's sanity, while also humble-bragging about how much he hangs out with the president:
"I was with the president in early December, and I spent an hour and a half with him in the private residence, and the conversation was terrific," said Ruddy. "He was not repeating things."

Ruddy mentioned he also was joined by a mutual friend, a respected medical doctor.

"He had no belief and view that the president was mentally incompetent and unfit. This is just an absurdity and it's really trash, actually," Ruddy said.

Ruddy also noted that he first met Trump 20 years ago, and has been around him often this past year, adding that Trump is not "psychologically unfit or has 'lost it,'" as Wolff claims.

Ruddy added that he saw Trump "every other day" over a 10-day period during the Christmas holidays, and talked with him numerous times.

"He was remembering things, he was on point, he was following up on discussions," said Ruddy. "I brought to the golf club a well-respected New York Times reporter who had a half-hour sit-down interview with him, Michael Schmidt ... but I don't believe Michael walked out and said, 'This man is crazy, this man is unfit.'"
Then Ron Kessler -- who helped build the foundation for Trump's political ambitions as a Newsmax writer -- went on Newsmax TV (while once again failing to be identified as a former Newsmax employee) to trash Wolff's book while promoting his own Trump-fluffing book:
My book is about unique access to Trump and his aides. In fact, I interviewed him last weekend the night before the Mar-a-Lago New Year's Eve party and he was perfectly normal, on top of everything. He said that this interview he's giving me is the only interview he's doing for a book or will do for a book. And I obviously don't want to go into a lot of detail about my book coming out April 3 -- "Inside the Trump White House: Changin the Rules of the Game" -- oreven the Michael Wolff book, which I will be going into with the inside story of how that book was done, but I do have a personal experience that I can share with you about the book.
Kessler later claims that his book is "the real story of Trump and his presidency, and it's something that you can bank on." Given the absurd amount of Trump-fluffing Kessler has done over the past two decades, we somehow doubt that.
(Photo: Ronald Kessler and his wife, Pamela, with Donald Trump, from Kessler's 1999 book "The Season," in which he actually wrote of Trump: "His typical facial expression is to set his mouth in a moue, somewhere between a pucker and a pout. It says, 'I'm a handsome guy. I'm going to WIN.'")
Posted by Terry K. at 9:09 AM EST