WND Whitewashes Far-Right Extremism of German Anti-Muslim Activist
Topic: WorldNetDaily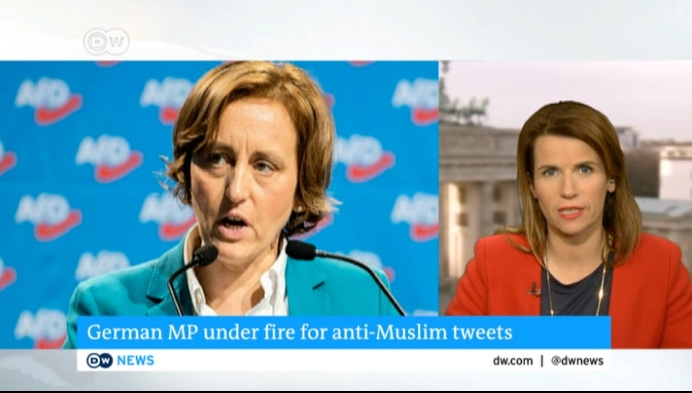 An anonymous WorldNetDaily writer states in a Jan. 2 article:
Freedom of speech has been effectively abolished online in Germany, as the country has begun enforcing strict censorship laws designed to prohibit the expression of "hate" online.

The Network Enforcement Act (NetzDG) mandates all social networking platforms with more than 2 million members must investigate and delete "illegal" content within one day of a complaint being received.

Facebook, Twitter, Google, YouTube, Snapchat and Instagram are among the sites which fall under the purview of the new law.

The fine for failing to delete illegal content can be as high as 50 million euros.

Deputy leader Beatrix von Storch of the Alternative for Germany (AfD) Party, which opposes the surging Islamization of the country under the government of Angela Merkel, has been called the first victim of the new law.

On New Year's Eve, von Storch criticized Cologne police for expressing holiday wishes in Arabic, claiming they were trying to appease "barbarians."
In fact, von Storch did a lot more than that; she called them "barbarian, Muslim, gang-raping hordes of men." In other words, clearly hate speech.
Also, the AfD party of which von Storch is a member goes far beyond WND's benign description of opposing "the surging Islamization of the country." It's a far-right party that borders on Naziism, to the point that it's calling for the term "volkisch" -- which the Nazis used to describe members of the German race -- to be rehabilitated, while another AfD leader called Berlin's Holocaust memorial a "monument of shame." It has also been found that hateful posts by AfD on Facebook are directly linked to violent attacks on immigrant groups in Germany.
As for von Storch, she has previously advocated shooting undocumented immigrants crossing the German border.
This whitewashing of extremists is arguably one reason WND is in severe financial trouble.
Posted by Terry K. at 4:49 PM EST