WND Ambushes Donna Brazile With Conspiracy Theories About Seth Rich
Topic: WorldNetDaily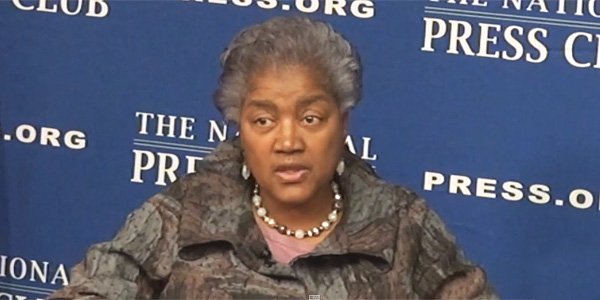 WorldNetDaily reporter Alicia Powe begins her Dec. 17 article this way: "Former DNC Chairwoman Donna Brazile appeared incoherent and agitated when WND approached her at a Tuesday book signing to ask her questions about murdered DNC staffer Seth Rich."
Unmentioned by Powe: That is likely a logical reaction to a writer for a fringe-right-wing website invading a book signing to pester her with conspiracy theories over Rich's death.
Indeed, that's exactly what Powe did, trying to pin Brazile down on arcane details on her book regarding Rich, which Powe framed as "conflicting statements about Rich's murder." She then mocks Brazile -- and demonstrates the malicious intent of her ambushh of her -- by whining that Brazile "appeared lost for words and made bizarre and rambling statements."
Powe included Brazile's answer, which doesn't sound rambling at all. Perhaps Powe found it bizarre when Brazile called out soulless conspiracy theorists like herself: "I don't practice the conspiracy theories that people have used to scar Seth's memory, to hurt his family. I have been to Omaha. I have been to his synagogue. I have cried because of him. I love that boy."
Of course, Powe and WND only love Seth Rich to the extent that they can cynically exploit his death to further their near-pathological hatred of Hillary Clinton. Powe has never been to Omaha, where Rich is from, nor has she been to his synagogue. Rich is not a person to anyone at WND -- just a tool.
Powe's article also includes the requisite reference to WND's dishonest crowdfunding effort to investigate (read: perpetuate conspiracy theories about) Rich's death. That effort continues to be a failure, having raised only $4,630 after nearly seven months.
Posted by Terry K. at 1:07 AM EST