At CNS, Winning Trumps Conservative Beliefs
Topic: CNSNews.com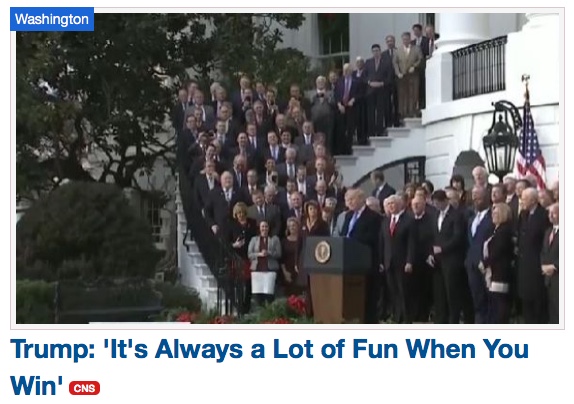 Surprisingly, the Trump stenographers at CNSNews.com found something to dislike about the Republican tax bill: it lowers the maximum age a child is eligible to be counted for the child tax credit from 18 to 17. CNS editor in chief Terry Jeffrey laid this out in an overly dramatic way in a Dec. 17 article, using language and a headline -- "Republican Tax Bill Says Your 16-Year-Old Won't Be Your Child Next Year" to bizarrely suggest that the government was going to actually take custody of your children:
The final version of the Republican tax bill released by a congressional conference committee on Friday holds that your 16-year-old child who is living in your home this year and attending high school will no longer be your child next year—even if they continue living in your home and attending high school.

That is because they will turn 17--the age at which the Republican congressional leadership has decided American parents should no longer be able to claim a child tax credit for their child.

This is in contrast to the version of the bill that passed the Senate, which, through 2024 at least, would have allowed parents to claim the child tax credit for their children until they turned 18.

Your newborn, who will be eligible under the final Republican bill for an increased "child" tax credit next year, will no longer be eligible for that increased credit when he or she is 9 years old--because the increased credit will disappear after 2025.
Jeffrey's concern over this provision didn't stop CNS from enthusiastically promoting the tax bill -- as Trump stenographers, they are highly invested in helping Trump score a legislative victory. It touted a (unsubstantiated) claim that the bill had bipartisan input, gave Treasury secretary Steve Mnuchin a platform to promote the bill, and promoted a Republican congressman's promotion of the bill, as well as Paul Ryan's shilling for it.
Interestingly, none of those articles mentioned Jeffrey's concern about the child tax credit change, even though they were all written after Jeffrey's article was published.
When the tax bill did pass, Jeffrey's article on it curiously failed to mention his own previous concerns about the child tax credit, instead cheering about how the bill "kills that individual mandate to buy health insurance" under the Affordable Care Act. So much for principled outrage.
And after the bill fully passed Congress, Susan Jones gushed about the "vintage Trump press conference" held afterward, with a headline that summed things up: "Trump: 'It's Always a Lot of Fun When You Win'." She also didn't mention the child tax credit her boss was worked up about just a few days earlier.
Winning is all that matters, apparently, and Jeffrey and CNS ultimately care more about making sure Trump wins than holding to any conservative convictions they may have claimed to have.
Posted by Terry K. at 11:42 AM EST
Updated: Sunday, December 24, 2017 11:45 AM EST