WND Pushes Pro-Moore Framing of Accuser As A Liar
Topic: WorldNetDaily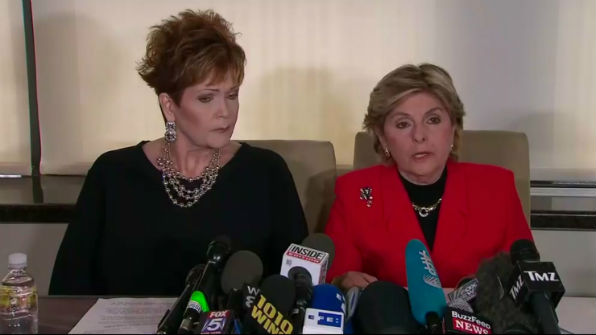 WorldNetDaily's double standard in its treatment of those who accused Roy Moore of perving on teenage girls vs. accusers of non-conservatives of sexual harassment continues in a Dec. 7 article by Art Moore eagerly embracing the pro-Moore narrative that a woman who says she wrote an annotation of the date and place Moore wrote in her high school yearbook -- but still stands by her claim that Moore wrote that note -- is a liar:
Pointing to a TV interview broadcast Friday in which Beverly Young Nelson admitted she annotated the yearbook inscription that she offered as the best evidence of her claim that Senate candidate Roy Moore sexually assaulted her 40 years ago, the Moore campaign told reporters they should conclude Nelson has undermined her credibility and that nothing in her story should be believed.

"The voters are going to have to decide, were they lying then or are they lying now?" said Moore attorney Philip Jauregui, referring to a Nov. 13 news conference in New York in which Nelson made her claim with celebrity lawyer Gloria Allred.

Moore is now in a tight race for a normally safe Republican seat with Democratic opponent Doug Jones ahead of next Tuesday's special election.

[...]

Jauregui noted that Nelson and Allred declared at the time that everything in the yearbook inscription was written by Moore.

"Today, it's a different story, isn't it?" he said Friday.

The text in the yearbook states: "To a sweeter more beautiful girl, I could not say Merry Christmas, Christmas, 1977, Love, Roy Moore, D.A., Olde Hickory House."

The lawyer renewed his demand that the yearbook be released to an independent handwriting expert to determine, for one, how old the ink is.

Earlier Friday, Moore tweeted, referring to Nelson: "Now she herself admits to lying."
Contrast that to WND's treatment of evidence that Juanita Broaddrick -- who has accused Bill Clinton of sexually assaulting her -- has lied. In 1998, Broaddrick submitted a sworn affidavit to independent counsel Ken Starr stating that nothing happened between them.
A January 2016 WND article reprinting a chapter from a WND-published book about women of have accused Clinton of misdeeds -- a book WND will never give Moore's accusers the opporunity to write -- author Candace Jackson complained that Clinton's lawyers "smugly pointed journalists" to the affidavit uncritically repeated a quote from Broaddrick that she signed the affidavit because "I didn't want to be forced to testify about one of the most horrific events in my life." Jackson added: "But signing the affidavit hadn't called off the hounds and there she was, reliving it all over again on national TV." Jackson continued to portray Broaddrick getting caught in a lie as somehow normal, asserting that a Clinton lawyerswho noted that Broaddrick has a credibility problem over flip-flopping on the affidavit "might have been a bit more convincing if we hadn't watched a similar affidavit signed by Monica Lewinsky go up in smoke just six months earlier."
Jackson then tries to justify Broaddrick's lying, in part by invoking her own claimed experience of having been sexually assaulted:
Juanita Broaddrick had to live in a country where her rapist's face, voice, and image surrounded her all through the '90s. That kind of constant reminder might have pushed me over the edge to full disclosure, too. She admits to lying under oath, denying the rape in an affidavit for the Paula Jones case. I wasn't under oath, but I once lied to protect the person who raped me – to a federal investigator doing a background check on this person for a job.
Being triggered by her attacker's rise to political prominence is a defense WND will grant to Broaddrick -- but not Moore's accusers. That's the very definition of a double standard.
Posted by Terry K. at 10:33 AM EST