MRC Exploits The Hell Out of Matt Lauer's Firing, Flushes Fox News Harassers Down the Memory Hole
Topic: Media Research Center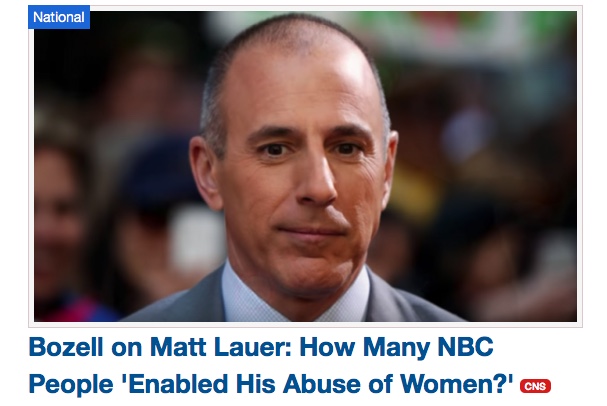 As we noted, the Media Reserach Center could only be bothered to barely acknowledge the fiasco that was James O'Keefe and Project Veritas' attempt to fabricate a fake scandal against Roy Moore in the hope that the Washington Post would take the bait -- apparently failing to account for the fact that Post is a credible news organization that verifies things before they're published. That was in no small part because it wanted to distance itself from the fiasco (even though the MRC has uncritically touted O'Keefe's work in the past), but it ultimately had to speak up in order to protect the so-called integrity of conservative journalism.
But the MRC also had another excuse to quickly move on: a shiny object called Matt Lauer.
The MRC's belated acknowledgement of the O'Keefe fiasco finally made it to a MRC-operated website about the time NBC announced it had fired "Today" co-host Lauer over allegations of sexual harassment. O'Keefe was quickly memory-holed; as far as Lauer went, the MRC was ON IT, cranking out a whopping nine posts in the next 12 hours.
That's approximately nine more posts that the MRC has ever devoted to the sexual harassment allegations against personalities at its favorite channel, Fox News: Roger Ailes, Bill O'Reilly and Eric Bolling.
Speaking of which: The first Lauer post was one in which Scott Whitlock bashed him as a "hypocrite" for questioning O'Reilly about his sexual harassment cases. Taht would be the interview in which the MRC's Randy Hall endorsed O'Reilly's porrayal of himself as the innocent victim of a "hit job," even though he has effectively admitted guilt by paying out millions of dollars in settlements.
The second Lauer post was also hypocrite-themed, in which Whitlock wondered if Lauer "doesn't have any concept of self-reflection" and "might have pondered his own actions while slamming Donald Trump over the infamous Access Hollywood tape," going on to huff that "Lauer brezzily reported on allegations against others."
Recall that the MRC helped Trump play the victim over that tape by dismissing it as politically motivated, with a heavy dose of Clinton Equivocation.
We also got the preening moralizing from MRC chief Brent Bozell, asking: "Clearly, there must have been numerous people at NBC who knew about his repugnant behavior. Where have they been all this time? How many people who could have put an end to this actually enabled his abuse of women?"
Bozell never asked that about the goings-on at Fox News.
The MRC's Rich Noyes took a similar tack, arguing without evidence that NBC News president Andy Lack must have known earlier about the accusations against Lauer "unless he's living in a cave or everybody else whose talking on the record is lying." He didn't mention that at Fox News, it was the president himself, Ailes, who was doing the harassing.
Not to be outdone, MRC bigwig Tim Graham asserted (on Fox News, natch): "But I think that the news media, these are people, that the shocking thing about all of this, is, you have never seen a group of people who say that they're on top of everything and then don't seem to realize they have a sexual predator in their midst for 20 years." Neither he nor his Fox News host, Shannon Bream, discussed how long Bream's fellow employees knew there were sexual predators in their midst -- or whether Graham, Bozell or anyone else at the MRC knew of the Fox News predators before it went public.
Finally, Bozell (though, in reality, probably his ghostwriter Graham) penned a piece for Fox News (of course) in which he rails once again at Lauer for his interview with O'Reilly: "How could Matt Lauer make these solemn pronouncements on national television with a straight face?" Funny, we ask that same question (except for the Matt Lauer part) every time we see Bozell on Fox News.
Bozell, Graham and the MRC have suddenly developed another Fox News-sized blind spot. Now that there are non-conservative sexual harassers to rant about, the last thing they want to talk about Ailes, O'Reilly and Bolling -- and their own hypocrisy in holding conservative harassers to lower standards and less lecturing.
Posted by Terry K. at 1:33 PM EST