WND Still Struggling to Crowdfund A Film
Topic: WorldNetDaily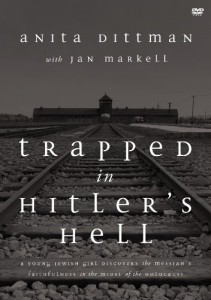 WorldNetDaily's crowdfunding campaign to praise pre-production costs to make a film about Obama-smearer Anita Dittman's WND-published memoir about life in Nazi Germany remains a failure -- after four months, it's raised only about $14,000 of its $120,000 goal. So WND is getting a bit desperate in its appeals. Last month, WND offered up this vaguely worded morsel:
It's only a matter of time and a few tweaks: Things are looking good for an independent campaign to create a feature movie about the remarkable survival under Adolf Hitler's regime of a teen Jewish girl who became a Christian.

The project, "Trapped," got a thumbs-up from a team of professional script analysts who gave it a "consider" rating, which was given only to 4 percent of scripts submitted.

A few changes and the rating could end up being "recommend," according to George D. Escobar, vice president of WND Films and the co-writer and co-director of Academy nominated film "Alone Yet Not Alone" and the documentary "Isaiah 9:10 Judgment," based on Jonathan Cahn's New York Times bestseller, "The Harbinger."
According to an actual script analyst, the "consider" rating is basically the same as "mediocre," in which some parts might be good but others need work. If it was just "a few changes" that were needed, the script would done better than it did before the nebulous panel of script analysts WND called in.
The article also tries to punch up the premise of Dittman's story, calling it "a harrowing true story in which a Jewish girl embraces Christianity during the Holocaust, handled in a way highly respectful of both faiths." We'll believe it if we ever see it; typically, conversion tales are less than respectful to the religion one is leaving, since there's usually a big reason that someone chooses to reject their native religion.
The article also reprises the questionable appeal that its recommended donation of $10 of "less than two cappuccinos, or lattes, or mochas from Starbucks," despite the fact that there's likely very little overlap in the Venn diagram of Starbucks customers and WND readers.
In other words, the overall appeal remains less than compelling.
Posted by Terry K. at 4:35 PM EST