With 'Thank Trump' Campaign, WND Officially Becomes State Media
Topic: WorldNetDaily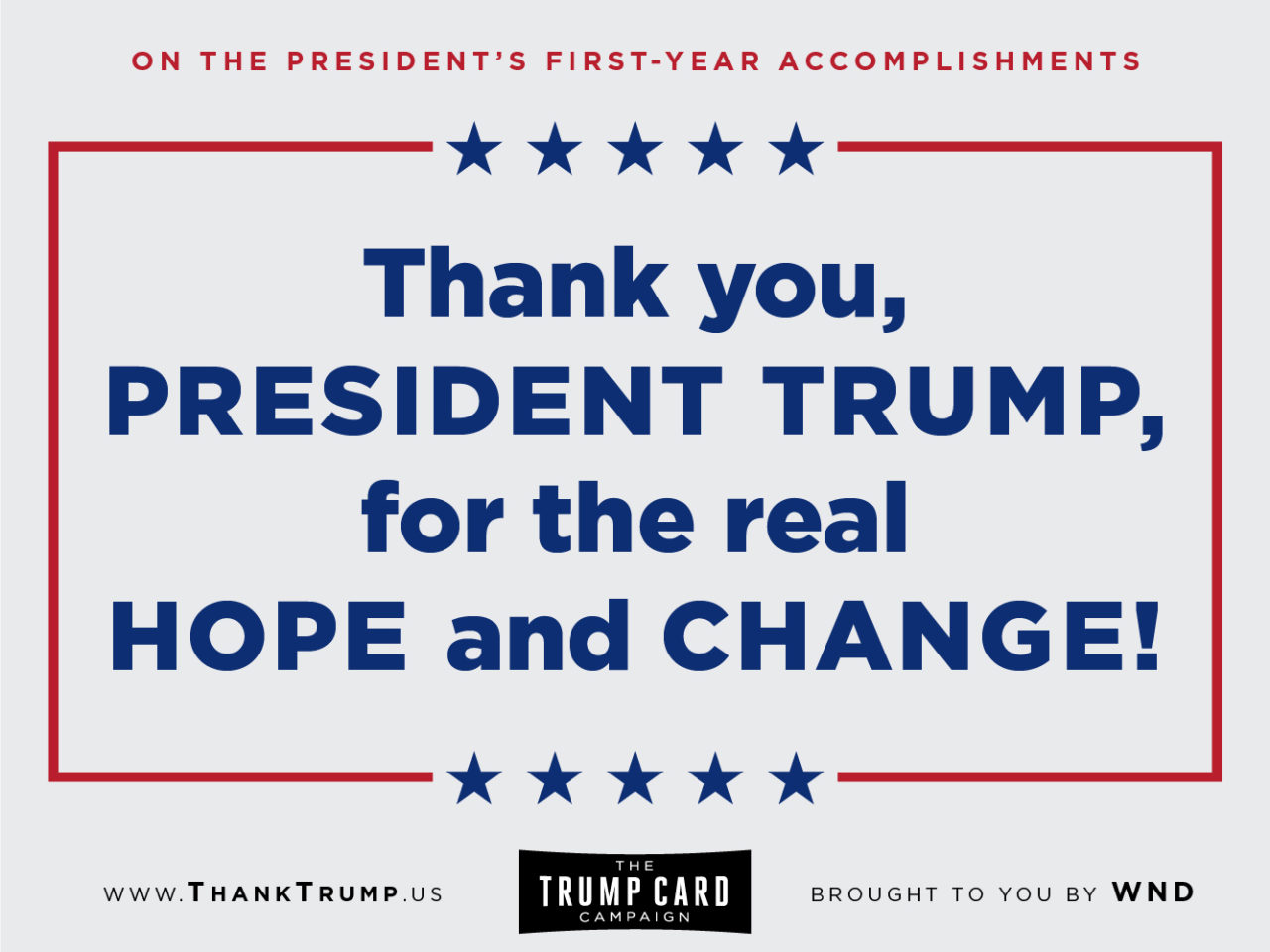 No discerning news consumer has ever mistaken WorldNetDaily for a real news operation that was fair and balanced and was concerned about the truth. It's always been among the most highly biased "news" operations, and it became even more so with the advent of Donald Trump's presidential campaign, selling out any moral prinicples to back a thrice-married adulterer and misogynist just because it wanted to be on the winning side.
WND has sealed its status as pro-Trump state media with a new website for sending thank-you cards to Trump. No, really.
The WND article promoting the campaign lamented that "every day brings new slurs, attacks, 'fake news,' unsubstantiated allegations, threats of impeachment" against Trump -- which, ironically, if you substitute the name of Barack Obama for Trump, is what WND had been dishing out for the previous eight years.
As a good state-media outlet would, WND insisted that Trump had "a staggering, perhaps unprecedented, list of accomplishments for a first year in the White House." Then it was time for a little self-aggrandizement:
It's all the idea of Joseph Farah, founder of WND.com, the world's first independent online news service – a unique and innovative opportunity to Americans, and, in fact, the people of the world, to send thanks and encouragement for what the president has accomplished in his first year in office.

There is no cost to participate in this campaign.

"While there are always going to be some disappointments in the imperfect art of politics, the Trump White House has fulfilled dozens of campaign promises, changed the tone of Washington, reversed the headlong plunge into socialism and raised the spirits of Americans like no one since Ronald Reagan in 1981," said Farah. "Such an occasion should not go unnoticed or overshadowed by the angry and vitriolic response from his disgruntled opposition. It's time for the president to hear from those who elected him – and those who have come around since Election Day."

The goal, Farah says, is to get millions of Americans participating in the campaign in a genuine display of sincere thanks and encouragement to Trump and his team for a "breathtaking" record of accomplishment in the face of unprecedented adversity and enraged opposition from Democrat politicians, the entrenched Washington establishment, what Trump calls the "fake news" media and street thugs, some paid and some violent, who have sought to disrupt and subvert the will of the people.

Farah is hoping the campaign will catch on fire with the help of social media activists spreading the word and the promotion of the campaign by alternative media outlets and talk radio.

"I don't expect much help from the 'fake news' cartel," said Farah. "But it wasn't the 'fake news' cartel that helped elect Donald Trump president. It was the new independent press, including the pioneer in that area, WND.com. Now, Donald Trump needs encouragement to stay the course, turn up the heat, open up the throttle and continue fulfilling campaign promises one by one. That's what this campaign is all about, in addition to demoralizing and defusing the angry, thuggish opposition led by the Democrats and establishment Washington.
How ironic that Farah is complaining about "fake news" when his website is one of the foremost purveyors of fake news in America.
WND also slipped in this bit of self-promotion:
WND has run other innovative political campaigns in the past, including the famous "Pink Slip" project, which sent 9 million messages to Congress on pink paper threatening members with rejection at the polls in November 2010 if they did not act on their campaign promises. The campaign was so successful, it exhausted supplies of pink paper in North America. Republicans gained control of the House of Representatives in that election by picking up a historic 63 seats and another six in the U.S. Senate.

Some credit the "Pink Slip" campaign with the birth of the tea party movement, which followed in its wake.
As we documented, the "pink slip" campaign was a way for WND to cash in on its readers, which paid it a whopping $29.95 to send 535 letters to members of Congress in large boxes with hundreds of other identical letters, which presumably diluted any impact WND hoped to have. And the "some" that credit the campaign "with the birth of the tea party movement" is none other than WND itself; the link on those words goes to a 2014 WND article stating only that "Ultimately the pink slip campaign presaged the tea party movement and one of the biggest voter revolts in American history in 2010" -- not that it was an inspiration.
(Unlike the pink-slip campaign, WND isn't charging anyone for the Trump thank-you cards; apparently the only tangible benefit it gets is the email-harvesting aspect.)
Accompanying the campaign is a lengthy list of what WND claims are Trump's accomplishments since his election. There are 149 of them, so you can be sure there's lots of padding going on.For instance, the very first one on the list -- "After his election, Trump met with top tech leaders, including Mark Zuckerberg of Facebook, Bill Gates of Microsoft and Jeff Bezos of Amazon. According to Gates, it was 'a good conversation about innovation, how it can help in health, education, the impact of foreign aid and energy, and a wide-ranging conversation about power of innovation'" -- is utterly meaningless as an "accomplishment"; it's just a meeting.
And No. 150 -- "Trump issued a memorandum Nov. 16 determining that the U.S. has enough petroleum coming from countries other than Iran to permit 'a significant reduction in the volume of petroleum and petroleum products' purchased from the mullah-led nation" -- has a factual problem; the memorandum was actually issued on May 17, not Nov. 16. WND hides the fact that the U.S. currently prohibits U.S. purchases of crude oil from Iran, so this memo is utterly meaningless as well; indeed, it appears to be a reiteration of current U.S. policy as required by law than any new action by Trump.
Apparently, the only way WND thinks it can get any credibility (or revenue) of any kind is to become a "made man" in the form of pro-Trump state media. But WND has always been a joke; this will make it even more so.
Posted by Terry K. at 7:43 PM EST